Turismo Racing Stazzione is an innovative gaming desk, developed by our Italian design team to maximize aesthetics, play and comfort. We spent nearly two years collaborating with top teams to maximize its function, reliability, and stability. Stazzione is offered in four attractive colors to suit the desires of any gamer and to serve as the apex of your battlestation. Available colors are red, blue, green, and purple, and we also offer a LED desk called Autodromo.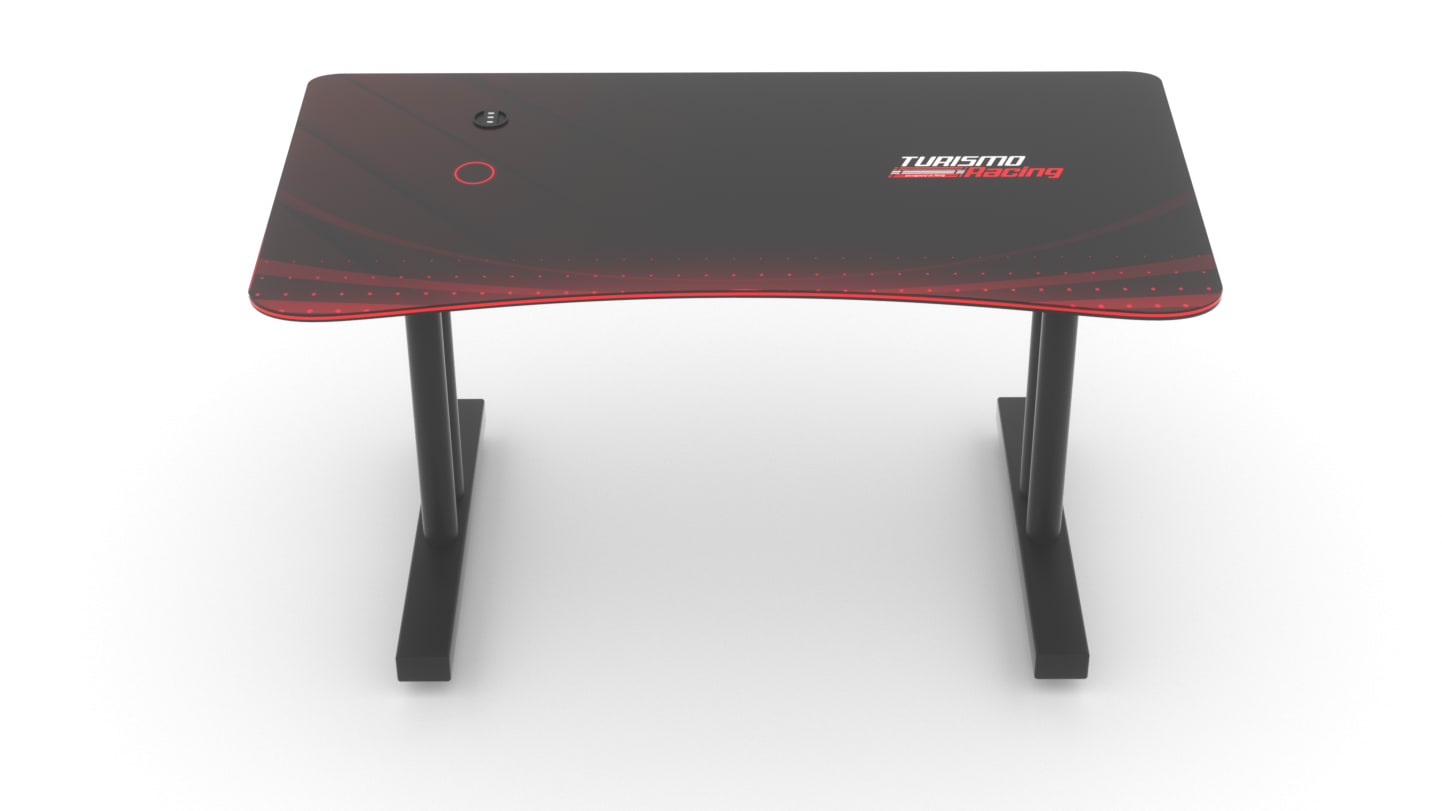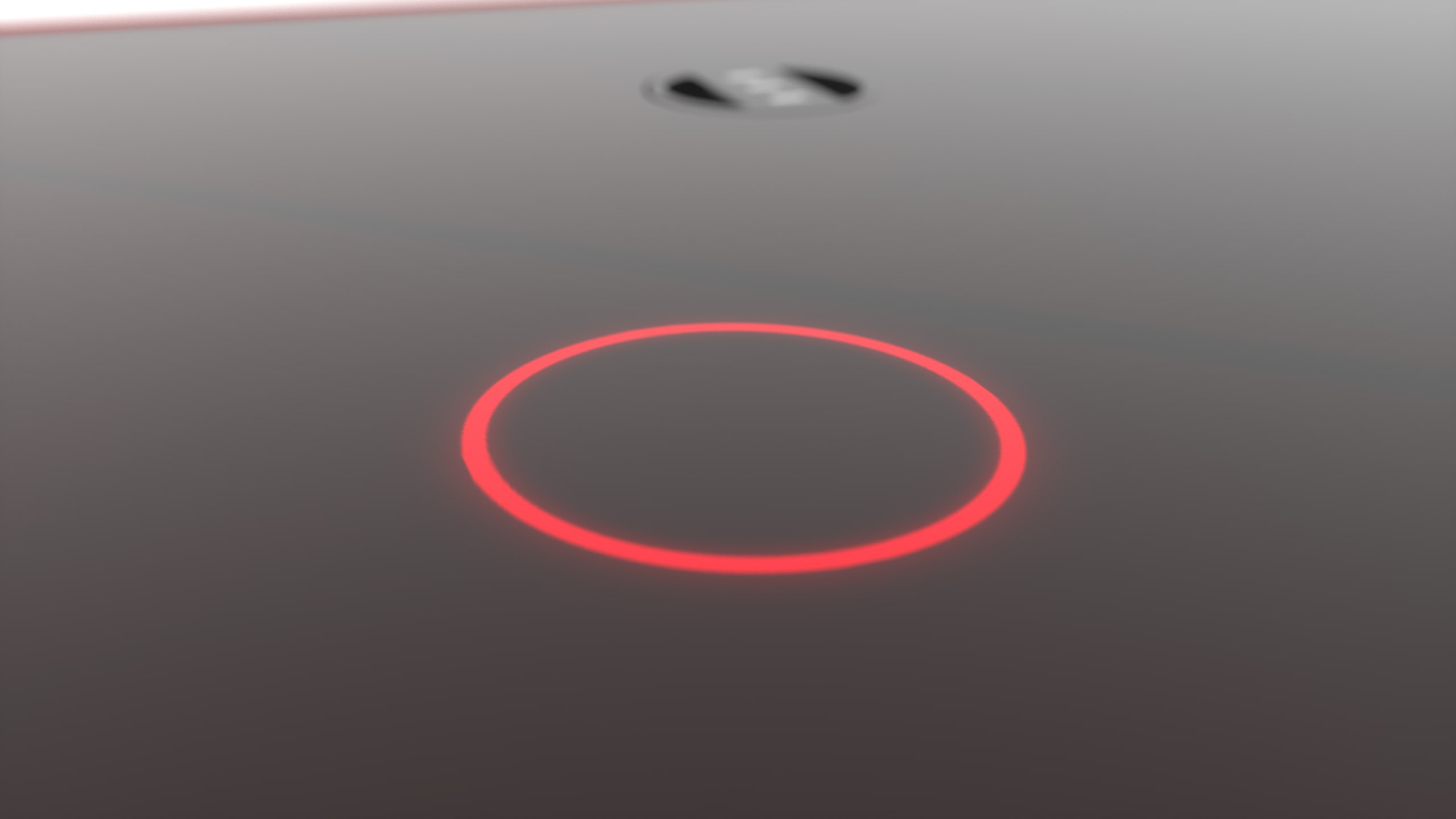 Wireless Cellphone Charger
A wireless charging pad in the desktop allows for easy charging of QI enabled cell phones, such as the newest models from Apple, Samsung, LG, and Huawei. This sleek feature is sure to impress your friends!.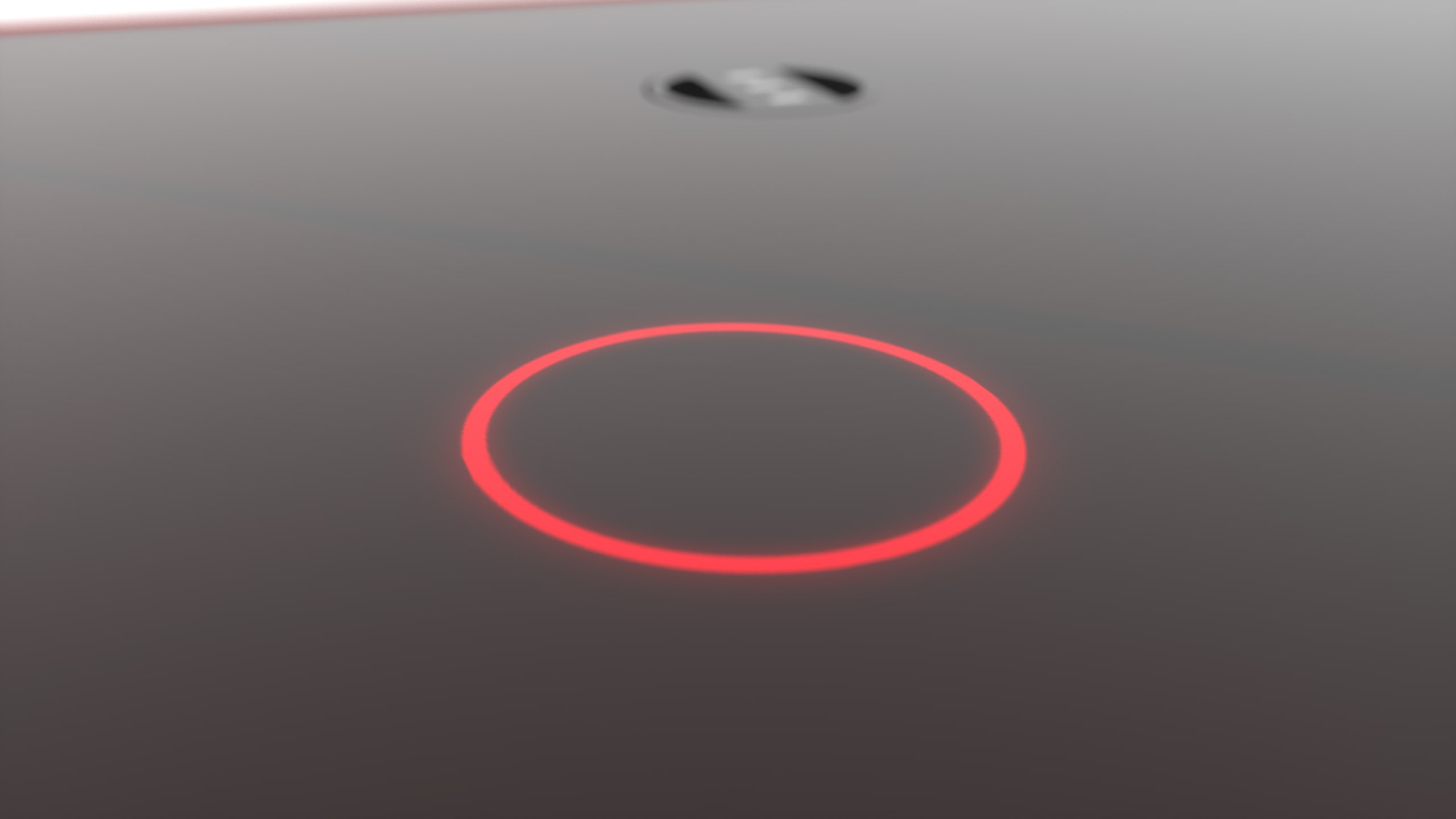 Cable Management Raceways

The Stazzione has 3 cutouts in the desk and mousepad surfaces so you can hide monitor, mousepad, and keyboard cables in the steel wire raceways underneath the desk, for a sleek hidden-cable look. Each of the two wire trays can support up to 25 pounds, more than enough to hold the heaviest AC Adapters and surge protectors.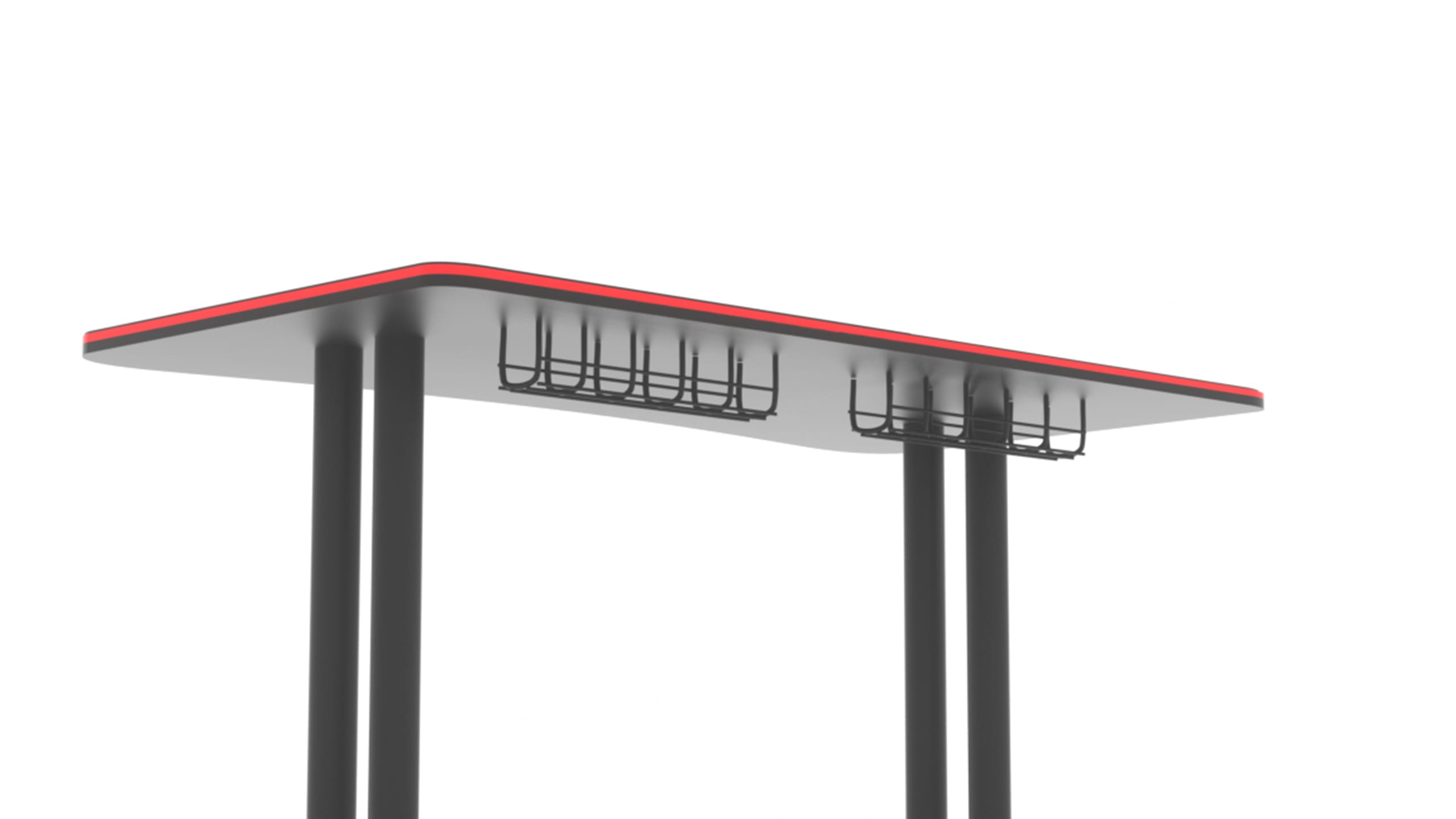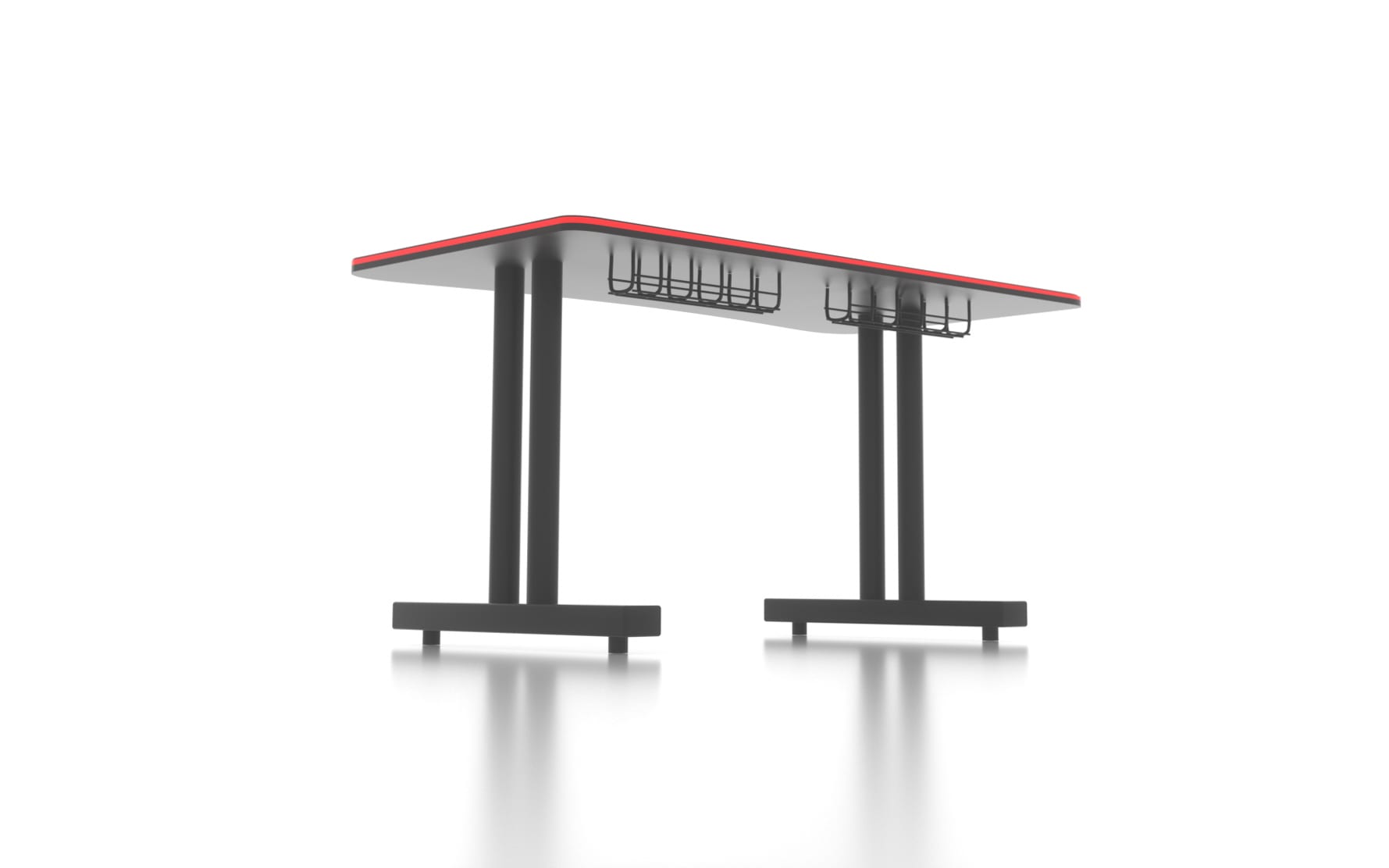 A single piece of steel stretches across the entire underside of the Stazzione, preventing the wobbling that you find in other gaming desks. Each side of the desk is supported by dual steel posts to ensure stability of up to 240 pounds of desk weight.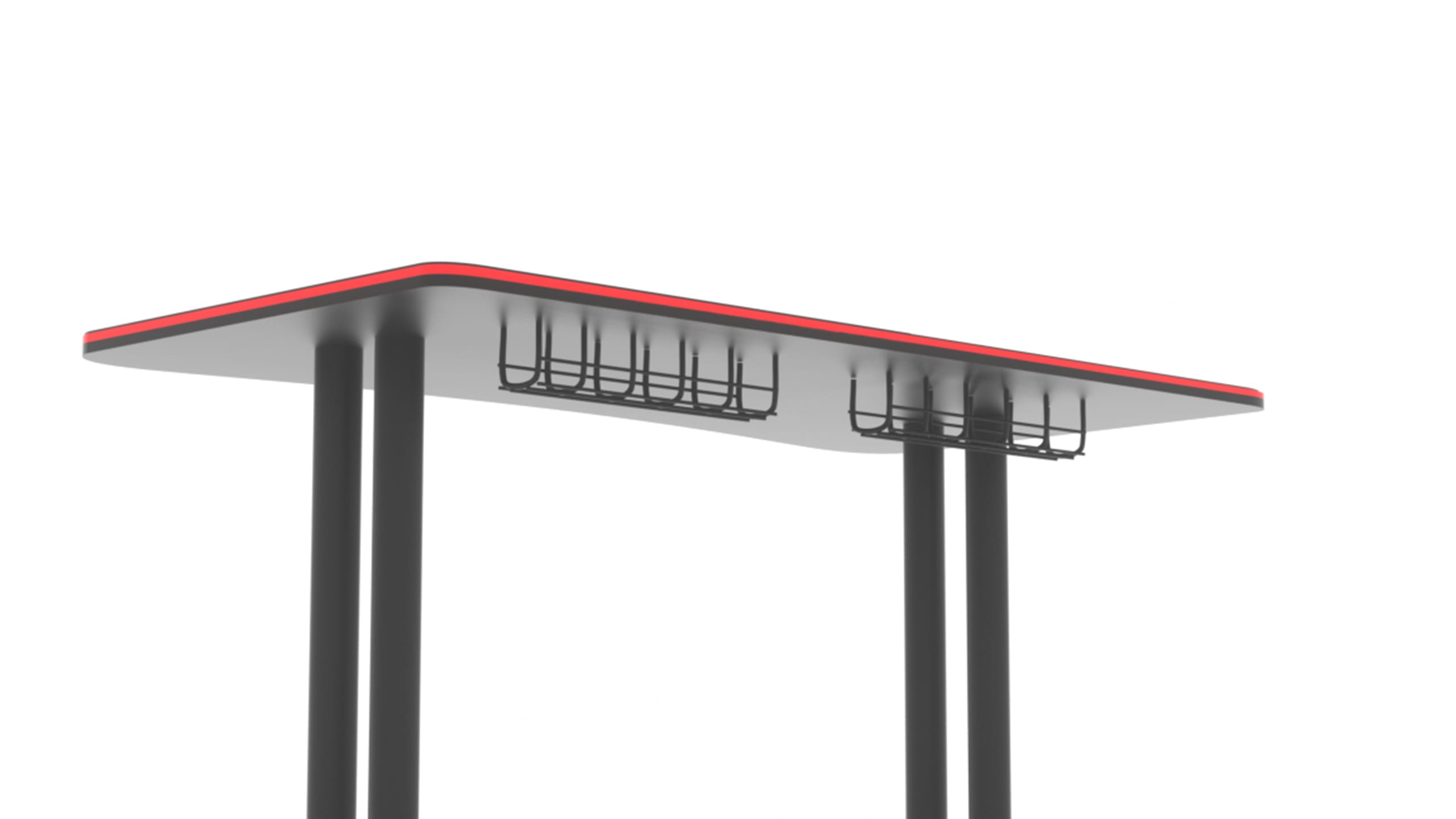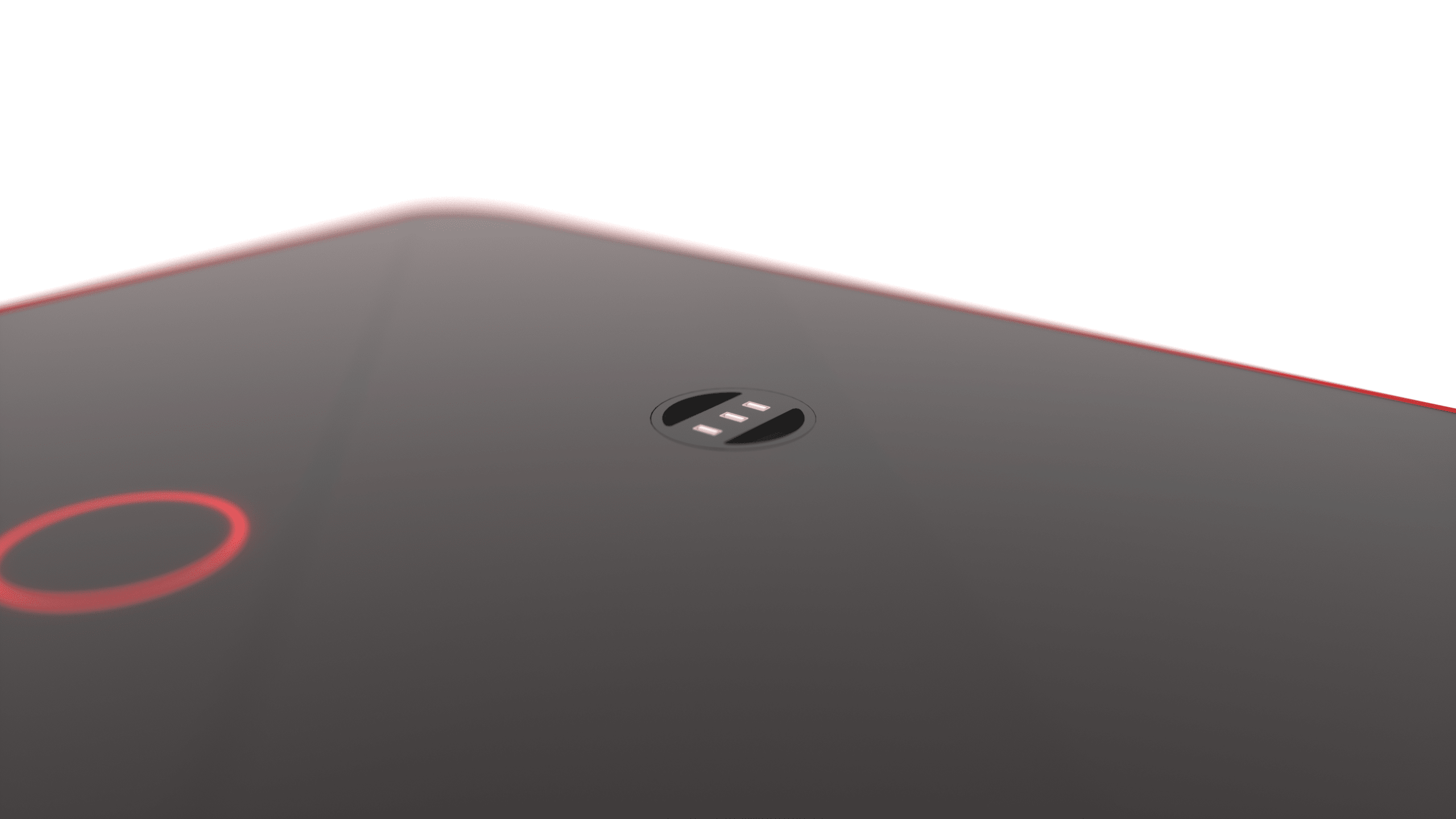 A USB Hub is flush mounted onto the desk, and can be connected to your PC for data transmission or a wall outlet if needed to power peripherals.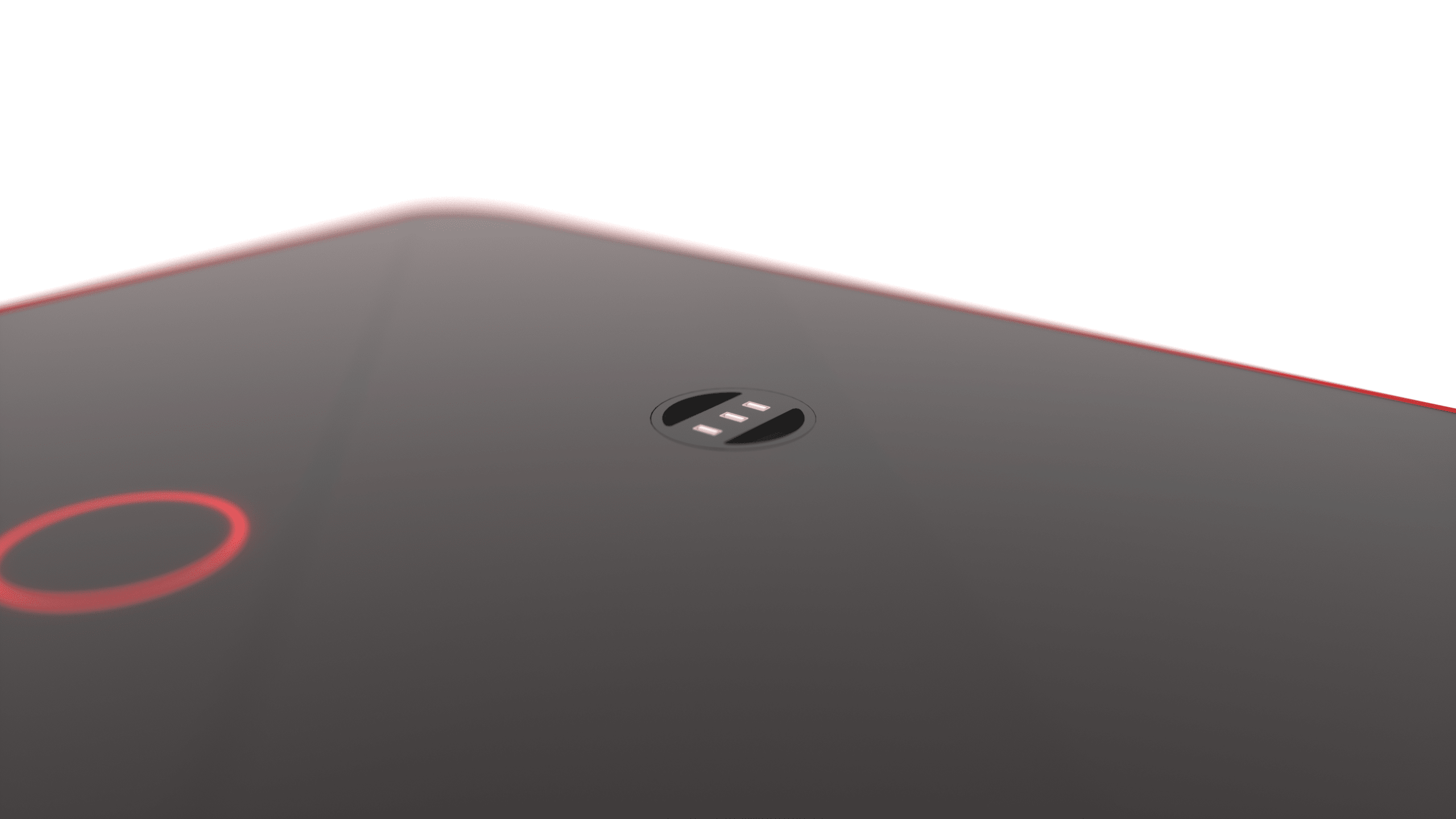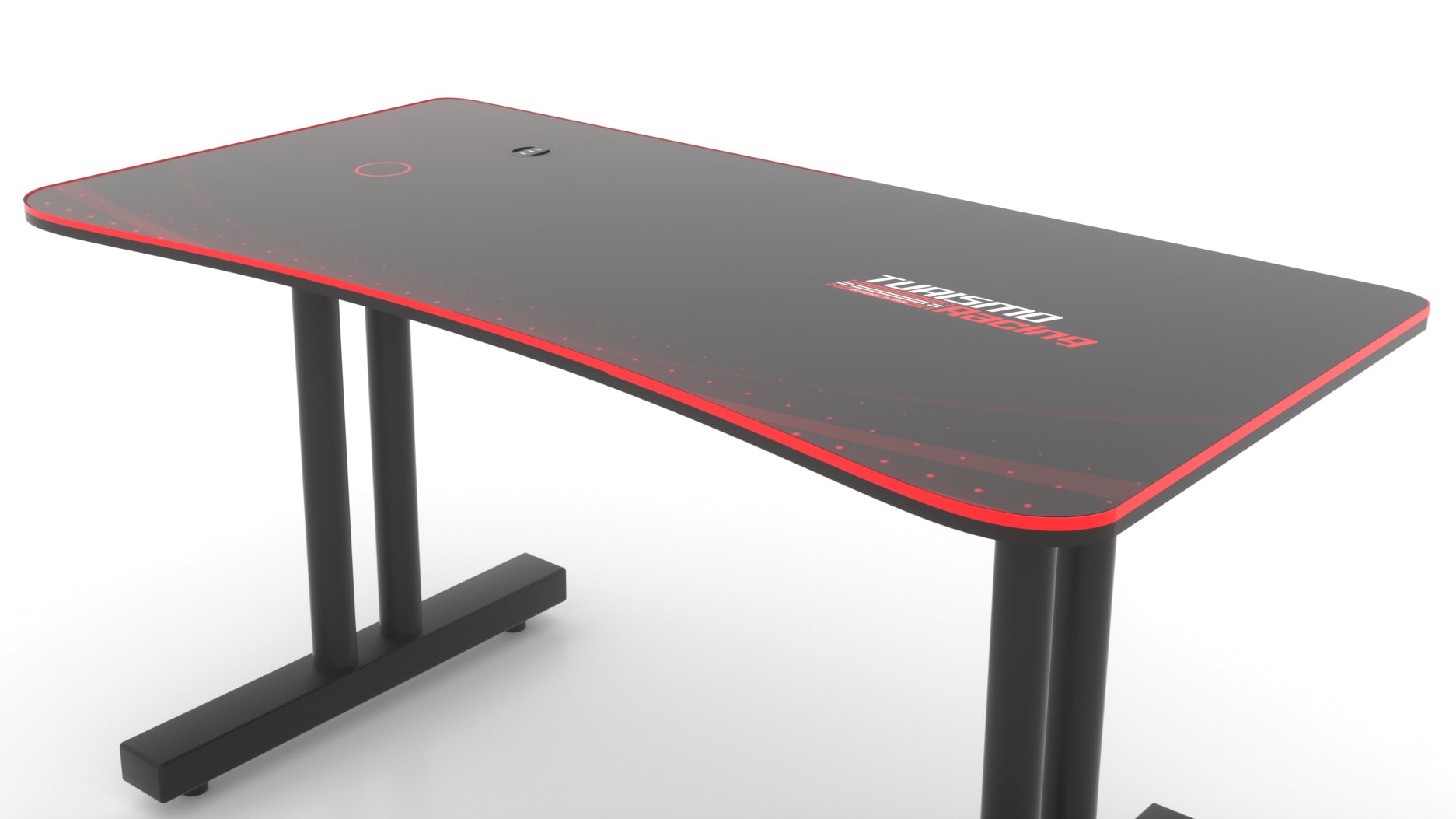 A custom microfiber surface with embroidered edges and thick padding to maximize comfort while gaming and provide a comfortable, streamlined surface that won't wear down your mouse or get it too dirty over time. This full-surface water resistant mousepad weight covers the entirety of the gaming desk, allowing for infinite peripheral movements and enhanced gameplay.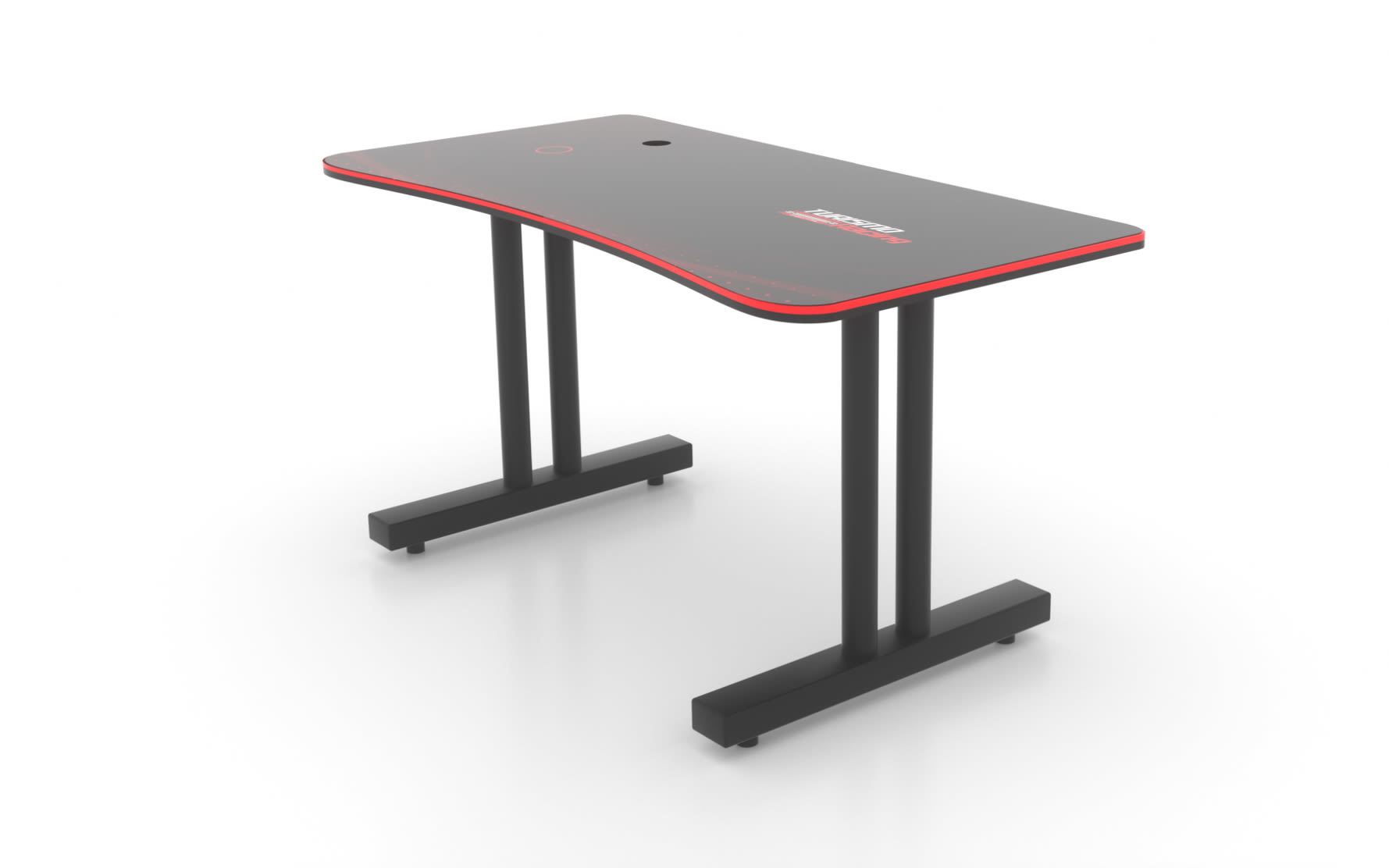 Built-in Wireless Phone Charger
64 inches width

34 inches depth

30 inches height

The best!
It's the best desk I've ever had! The design is beautiful and it's very stable.
Sturdy
It's true about the weight: the green desk has supported my PCs and 3 screens with lights and speakers, and it's still like new. Incredible!
Excellent
It is very high quality, and it looks amazing. I use it to play games on and watch movies. The best parts about this product are that it has a wireless charger for your phone, so you can charge your phone without having to plug in any cords, and you can accommodate all your setup due to it being very spacious.fantastic
Awesome desk
My favorite part of this product is definitely the USB hub - it allows me to charge all my devices without having wires sticking out everywhere (which can be really distracting).
Green chair?
Green looks wonderful with black. I want a green chair now. Do you have one?
I will recommend it to my other friends
My friend showed me this desk. He said it was perfect for gaming and I had to try it out. The design of the desk is amazing, and the green color is nice!
Perfect desk
My desktop is located right in front of me and I spend most of my time on it. The Stazzione is the perfect desk for gamers like myself who need to get work done while they play games. It's well designed, sturdily built, has ample space and its humble colors make it look very stylish!
Great customer service
The customer service was also phenomenal when my order arrived damaged from shipping. They were very responsive and helpful in fixing the problem with no fuss at all!
Very good design
The design is sleek, professional-looking, and works well with my green nice setup. I am very happy with this purchase!
Great table
The design of the table is very good. It looks amazing on my setup and it fits perfectly with all my other gaming accessories, including the keyboard and mouse that I have connected to the desk through USB hubs.
Every new gaming desk comes with our industry's best warranty and loyalty program - Turismo Care. We provide each original retail purchaser a 1-year warranty against defects in materials and workmanship of all parts.
This warranty does not cover:

- Improper assembly.
- Improper follow-up maintenance.
- Installation of components, parts, or accessories not compatible with the desks sold.
- Damage or failure due to accident, misuse, abuse, or neglect.
- Labor charges for part replacement or changeover.
- Desks used for commercial activities, including those in rental fleets and gaming arenas.

All consumables have a 90 day warranty.