Turismo Racing Autodromo v2 is an innovative gaming desk, developed by our Italian design team to maximize aesthetics, play and comfort. We spent nearly two years collaborating with top teams to maximize its function, reliability, and stability. Autodromo v2 is offered in four attractive colors to suit the desires of any gamer and to serve as the apex of your battlestation. Available colors are red, blue, green, and purple, and we also offer LED-free desks called Infinity and Stazzione.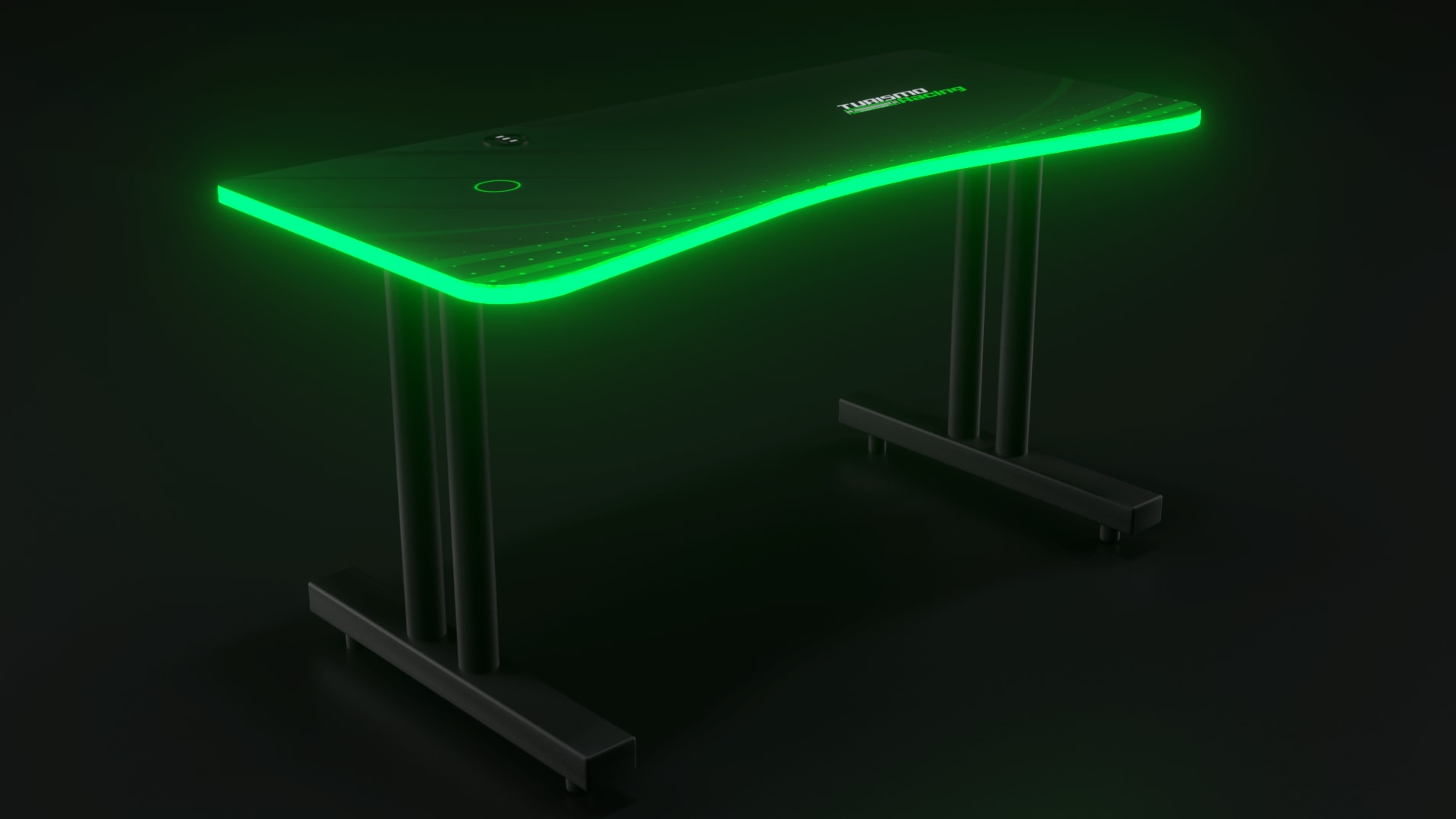 Integrated LED Ambient Lighting

The Autodromo features a revolutionary LED lighting system, designed to create indirect ambient lighting around the perimeter of the desk and highlight the architectural features of your gaming setup. Its comfortable bias lighting helps to reduce eye fatigue during prolonged gaming sessions.

Wireless Cellphone Charger

A wireless charging pad in the desktop allows for easy charging of QI enabled cell phones, such as the newest models from Apple, Samsung, LG, and Huawei. This sleek feature is sure to impress your friends!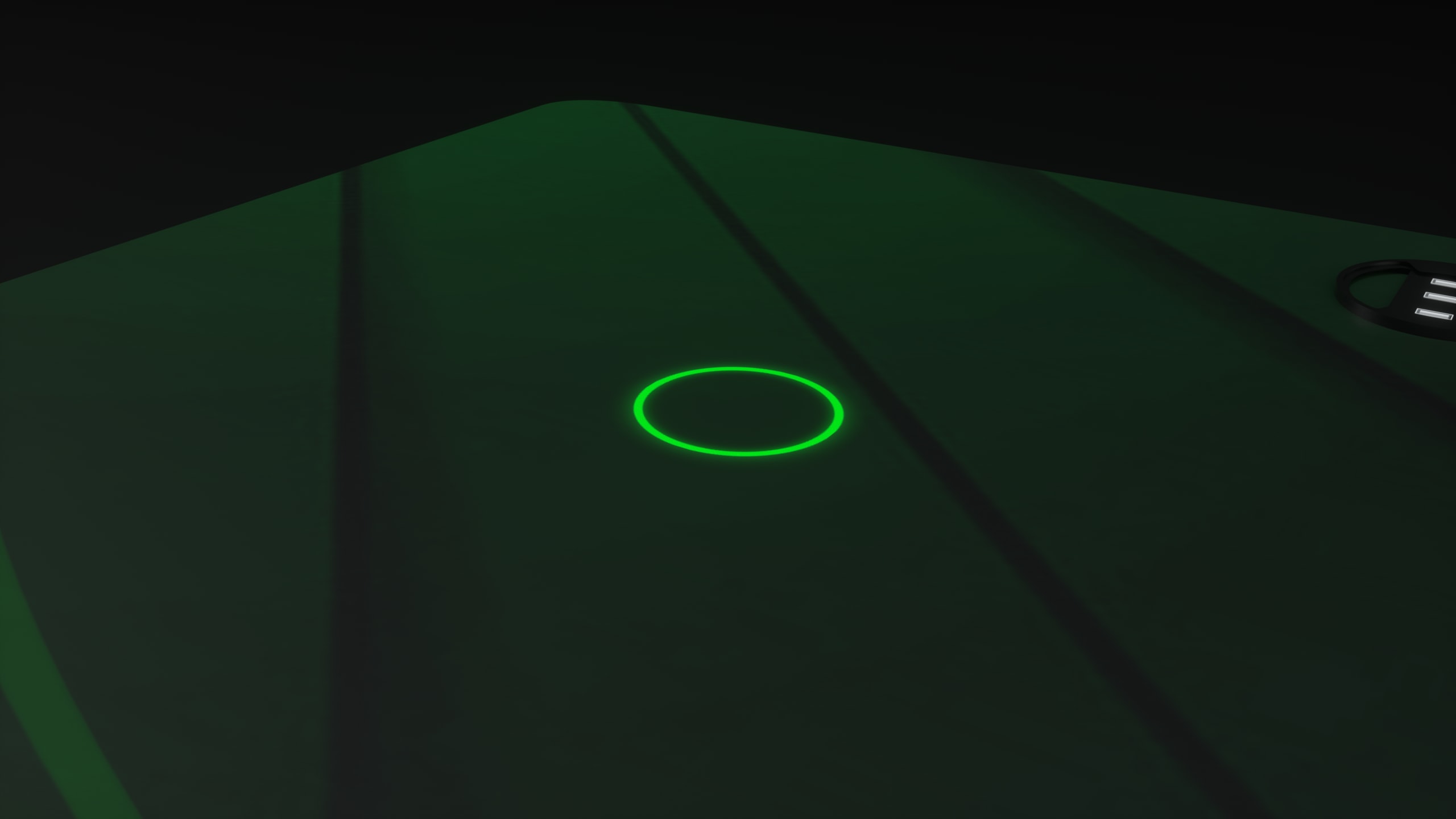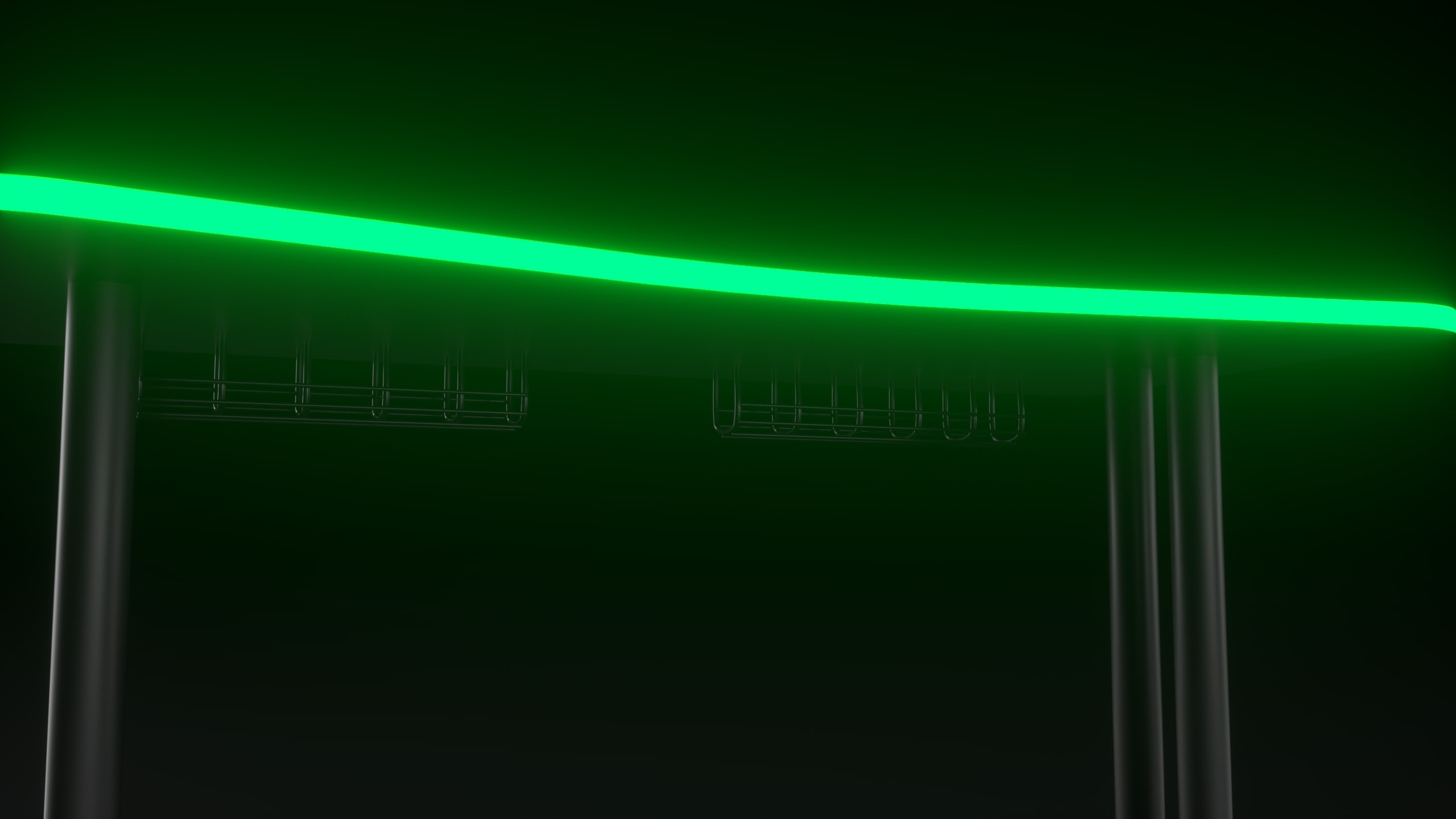 Cable Management Raceways

The Autodromo has 3 cutouts in the desk and mousepad surfaces so you can hide monitor, mousepad, and keyboard cables in the steel wire raceways underneath the desk, for a sleek hidden-cable look. Each of the two wire trays can support up to 25 pounds, more than enough to hold the heaviest AC Adapters and surge protectors.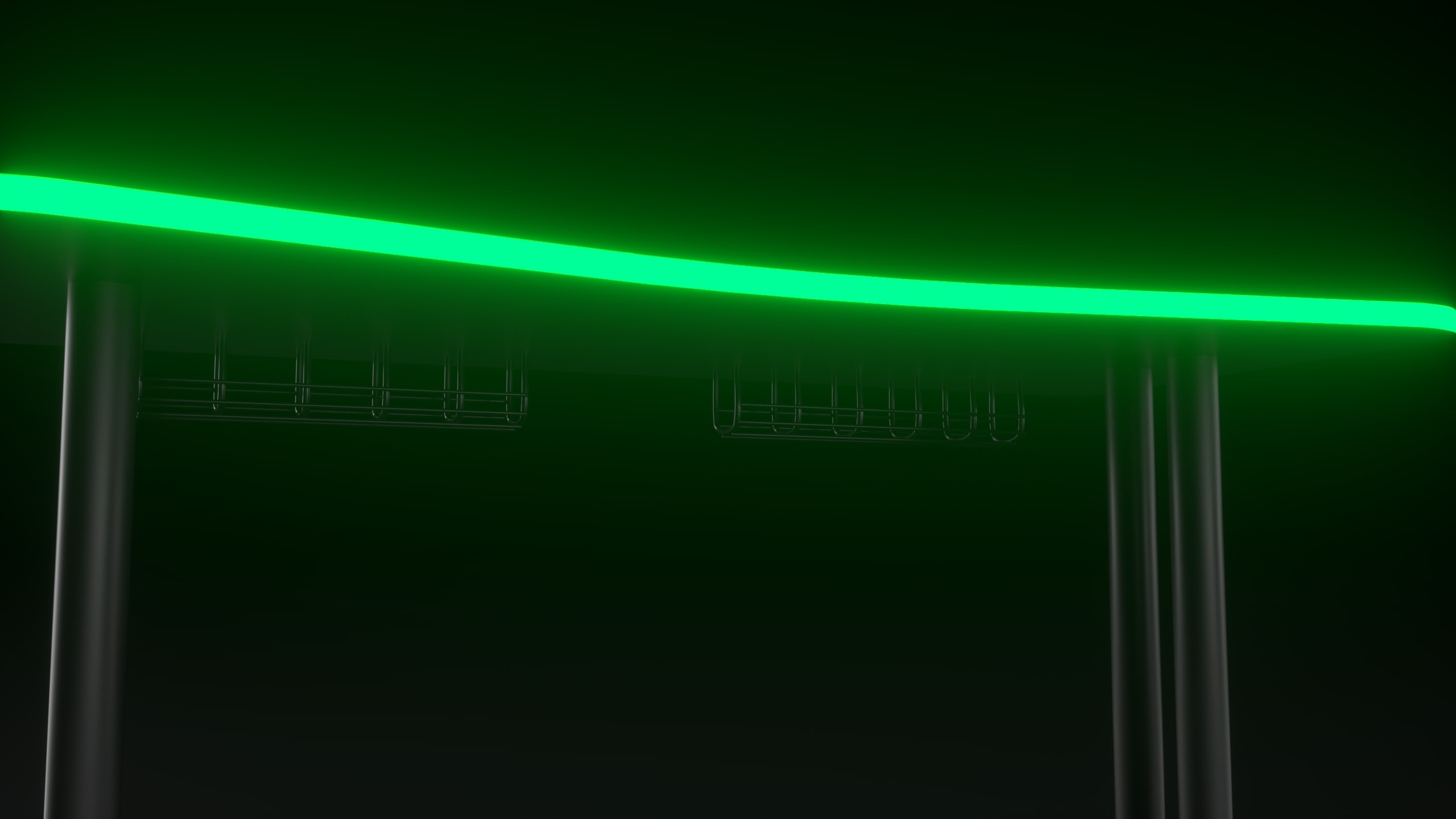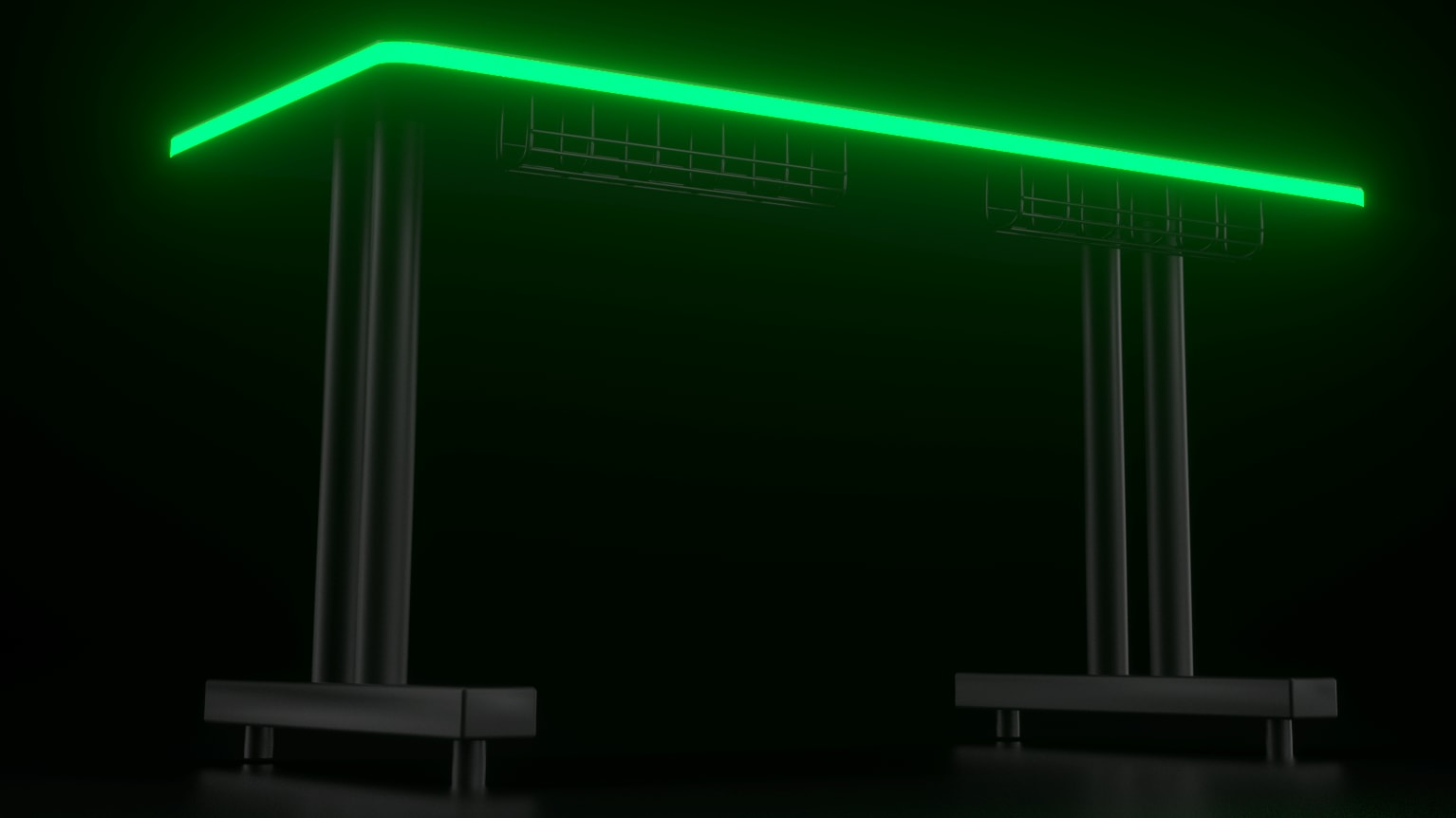 A single piece of steel stretches across the entire underside of the Autodromo, preventing the wobbling that you find in other gaming desks. Each side of the desk is supported by dual steel posts to ensure stability of up to 240 pounds of desk weight.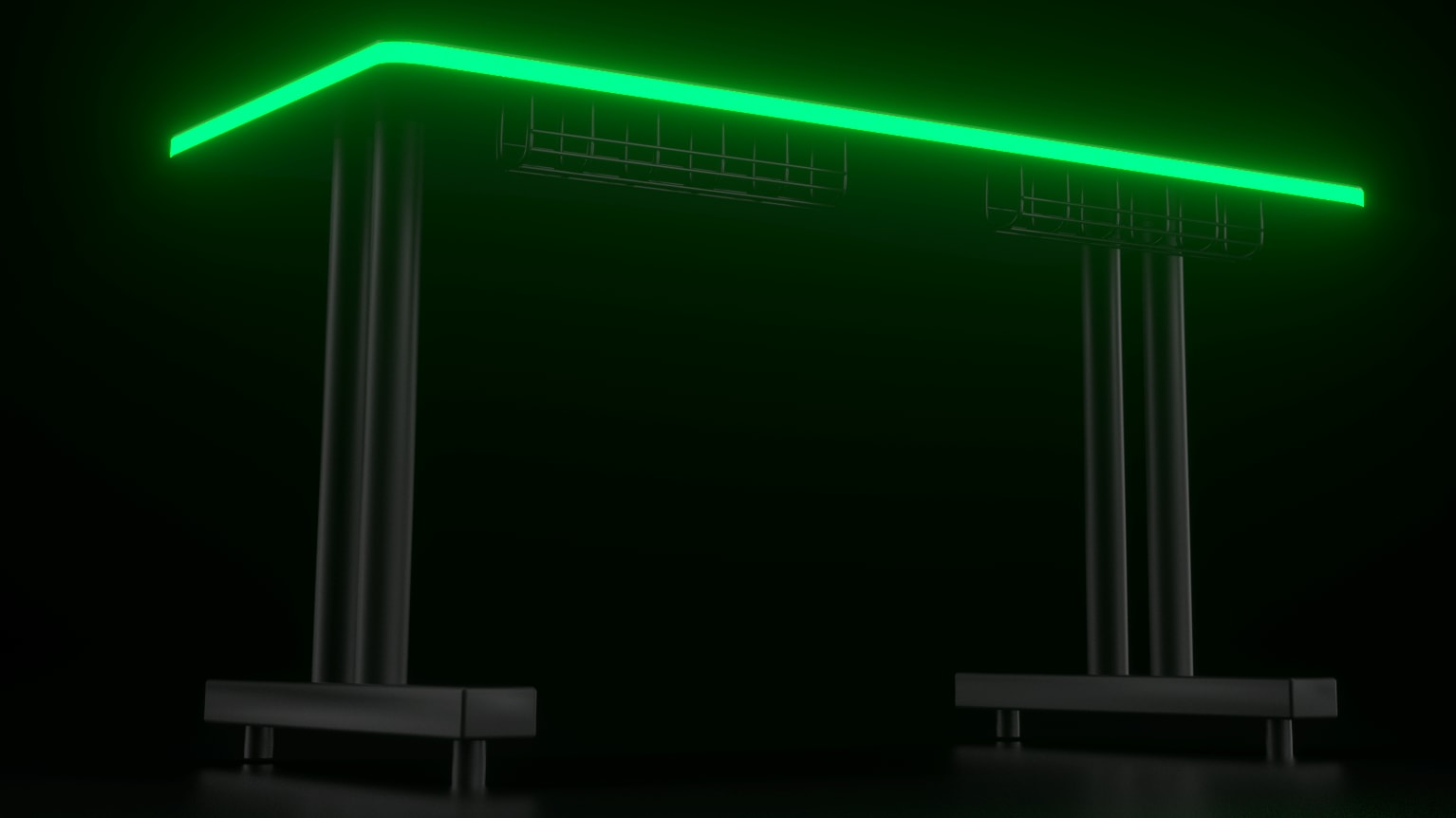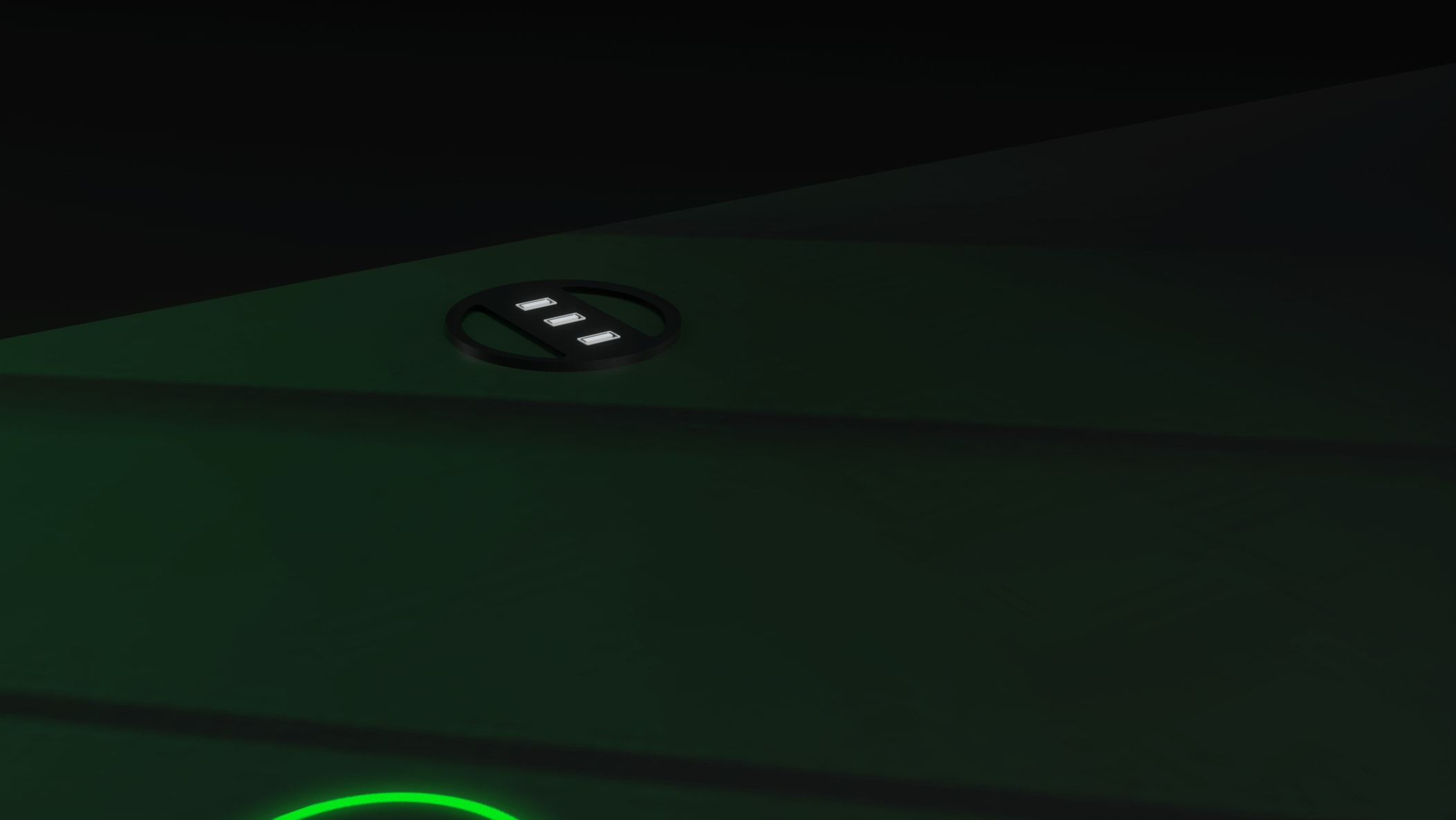 A USB Hub is flush mounted onto the desk, and can be connected to your PC for data transmission or a wall outlet if needed to power peripherals.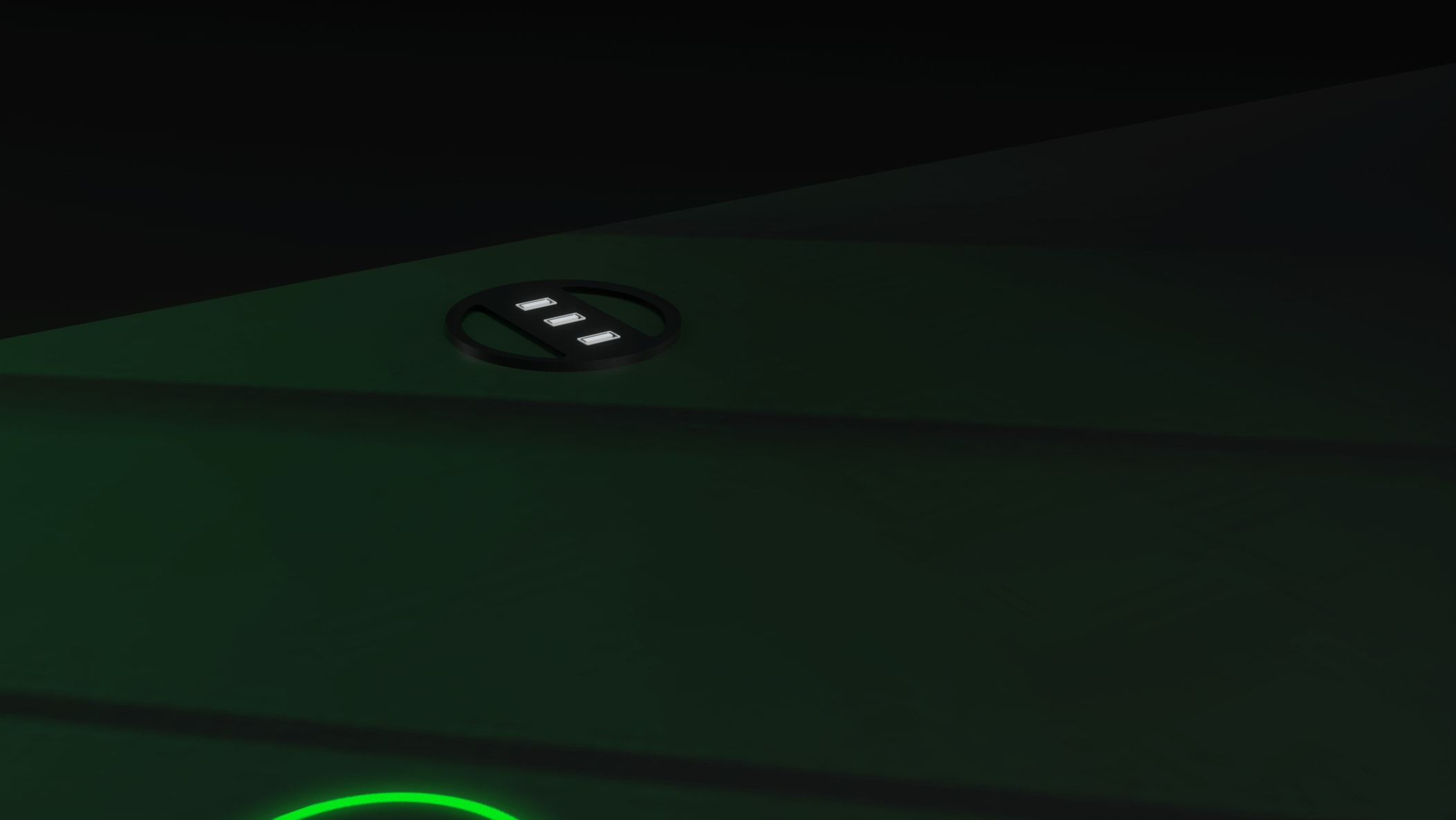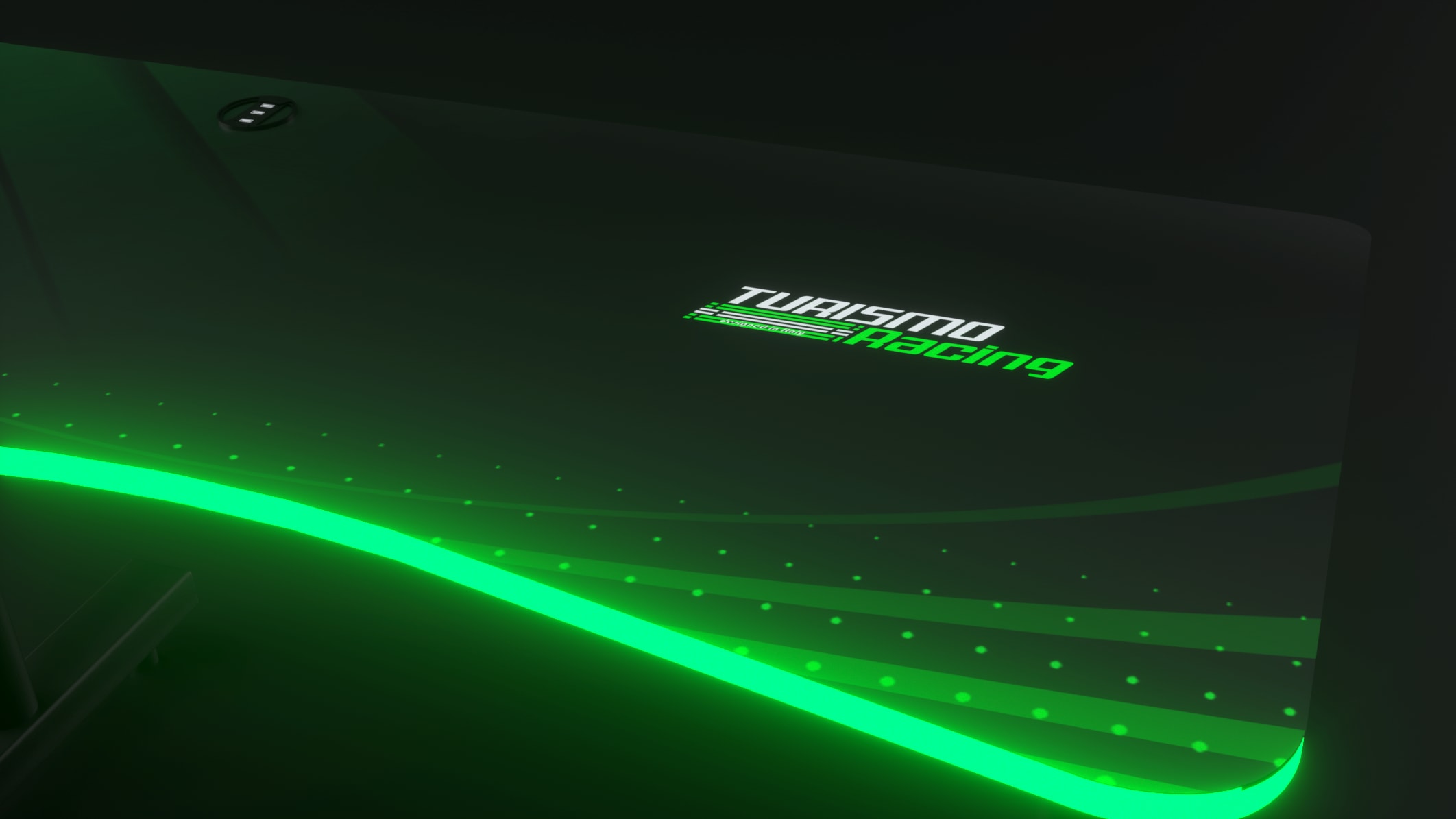 A custom microfiber surface with embroidered edges and thick padding to maximize comfort while gaming and provide a comfortable, streamlined surface that won't wear down your mouse or get it too dirty over time. This full-surface water resistant mousepad weight covers the entirety of the gaming desk, allowing for infinite peripheral movements and enhanced gameplay.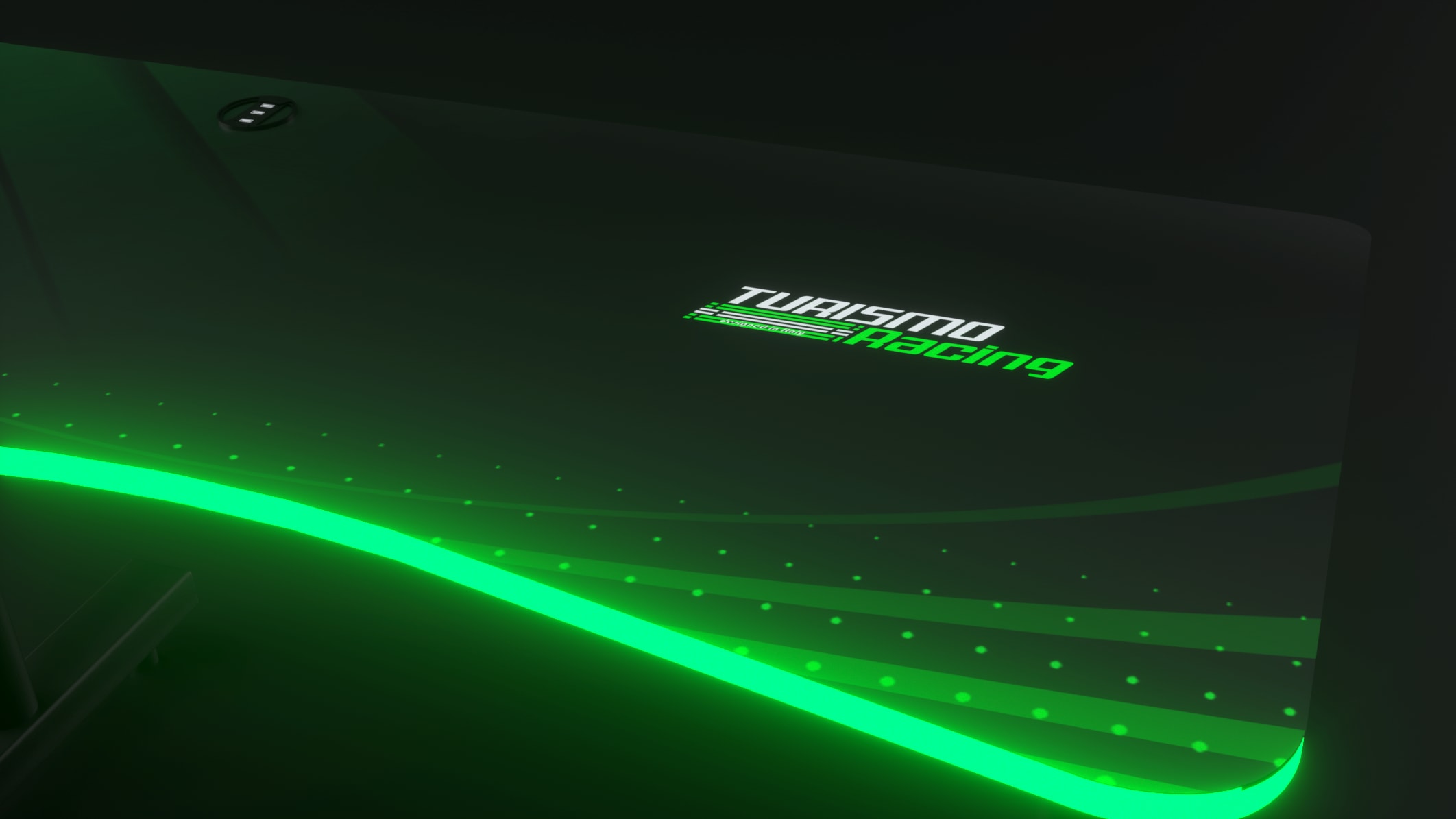 Built-in Wireless Phone Charger
64 inches width

34 inches depth

30 inches height

We bought two of these desks
The construction of the gaming desk was surprisingly easy for a piece of flat-pack furniture, and the instructions were also easy to follow. This is generally hard to find in these sort of products, so its not to take for granted. Each step had pictures, and there was an assembly video but I didn't need it.Once constructed, the table itself is VERY nice.The desk is sturdy, even with a tremendous amount of weight applied to it. The quality of the construction materials is to take credit for this. The cable management system is a really nice touch, as well as having holes for the wires to go through on the large mouse-mat.
Assembly went good.
I have used a multitude of desks, shelving setups, etc... for my computing needs and have never been completely satisfied. That has ended! I'm an IT Pro, Gamer and need LOTS OF SPACE. This desk has LOTS of SPACE.It is DEEP.It is WIDE.It has 3 CUTOUTS (left, center, right) including through the mouse pad.It has CABLE MANAGEMENT.It is STURDY, STABLE and SOLID.It is BALANCED (I have seen reviews of other desks that are wobbly - THIS ONE IS NOT).I have three monitors - FIT EASILY.The tools and bolt packages are NEATLY LABELED and separated in individual baggies.The SURFACE MOUSE PAD is gigantic.The mouse pad is MACHINE WASHABLE.PACKAGING was solid and it was WELL PROTECTED in the box.EXTRA BOLTS were included. Only a couple but I did not need them.SHIPPING came via UPS exactly as estimated (even gave me a 3 hour window). They hit it!It LOOKS RAD! Especially if you have the matching chair and LEDs on your RIG.
Dispelling Recent Bad Reviews
Despite being a bit concerned with the bad reviews since the new year, I was relieved that the desk arrived in perfect shape without any of the defects other reviewers have noted.My package came 11 days after ordering via FedEx and had no damage. Assembly was straightforward.Desk seems solid and sturdy, with no wobbling. Would recommend.
Be Organized while gaming!
When I was looking for a gaming table, I wanted to make sure I found one that could not only hold my computer, keyboard and mouse, but I wanted to have one that I was also able to put my other systems, and my extra monitor. I can do that with the Turismo Gaming Desk and I even have more space for drinks, note pads, etc. The space that the desk provides is more than ample for everything I need and it helps me stay more organized. With the built in USB ports and the iPhone charger it makes it easier to be plugged in! No more clutter for me. Definitely a worthwhile purchase if you are looking for something sturdy and to help you organize your gaming corner!
Good desk, sturdy, lots of room
Great desk! I had to upgrade for my new setup and this one supports my 4 monitors easily. Seems sturdy and lots of room. Would recommend.
Absoloutely Solid Perfect Gaming Desk.
Amazing Desk
Incredibly solid and easy to put together (and of course the design and glow are beautiful). No unreasonable shift - as sturdy as can be without being bolted to the floor! The wireless charger did come without a sheath/cover but that's an easy fix. Would recommend, worth the wait!
Better than I expected
We bought this for my brother in law for his bday. He is a huge gamer. He has two monitors. He was the one that put it together and he did say that it took him a little bit of time, but it wasn't hard to put together. He loves that the top of the desk is a giant mouse pad. The colors look great! It isn't fun to move a lot, so make sure you have it where you want it. He said, it shows how sturdy it is though. He wouldn't want it to be light. Anything could turn the table over then. We are so happy that we bought this for him.
Best gaming desk so far
I received in 2 days! Originally was suppose to be 5 to 7 day shipping @ checkout although it was prime, didnt bother me! Paid 269$ for this desk thats a good deal!Desk is sturdySetup was ezGgwpff
The most amazing desk I've had to date
I bought this around Christmas and it has been a good sturdy desk so far. Only problems i have noticed is the mat gets dirty fast and picking black didnt help. Overall a good investment when on sale.
Every new gaming desk comes with our industry's best warranty and loyalty program - Turismo Care. We provide each original retail purchaser a 1-year warranty against defects in materials and workmanship of all parts.
This warranty does not cover:

- Improper assembly.
- Improper follow-up maintenance.
- Installation of components, parts, or accessories not compatible with the desks sold.
- Damage or failure due to accident, misuse, abuse, or neglect.
- Labor charges for part replacement or changeover.
- Desks used for commercial activities, including those in rental fleets and gaming arenas.

All consumables have a 90 day warranty.