The Infinity Desk has a Full-Surface Mousepad that will change the way you work. It features built-in stealth wireless phone charging and USB ports strategically placed on the desk. The amount of workspace it provides is enormous, making it the last desk you will ever buy. Guaranteed, or your money back.
Turismo Racing Infinity is an innovative productivity desk, developed by our Italian design team to maximize aesthetics, functionality and comfort. We spent nearly two years collaborating with top teams to maximize its function, reliability, and stability. Infinity is the big brother to the Stazzione, uniquely offering USB-C and USB 3.0 ports, audio I/O and electric power ports. The Infinity is only offered in Black, while the Stazzione is offered in four attractive colors to serve the desires of any gamer as the apex of your battlestation. We also offer a LED desk called Autodromo.

Wireless Cellphone Charger
A wireless charging pad in the desktop allows for easy charging of QI enabled cell phones, such as the newest models from Apple, Samsung, LG, and Huawei. Features the newest QC 3.0 chipset, capable of charging your iPhone 12 in 90 minutes!

Cable Management Raceways

The Infinity has 3 cutouts in the desk and mousepad surfaces so you can hide monitor, mousepad, and keyboard cables in the steel wire raceways underneath the desk, for a sleek hidden-cable look. Each of the two wire trays can support up to 25 pounds, more than enough to hold the heaviest AC Adapters and surge protectors.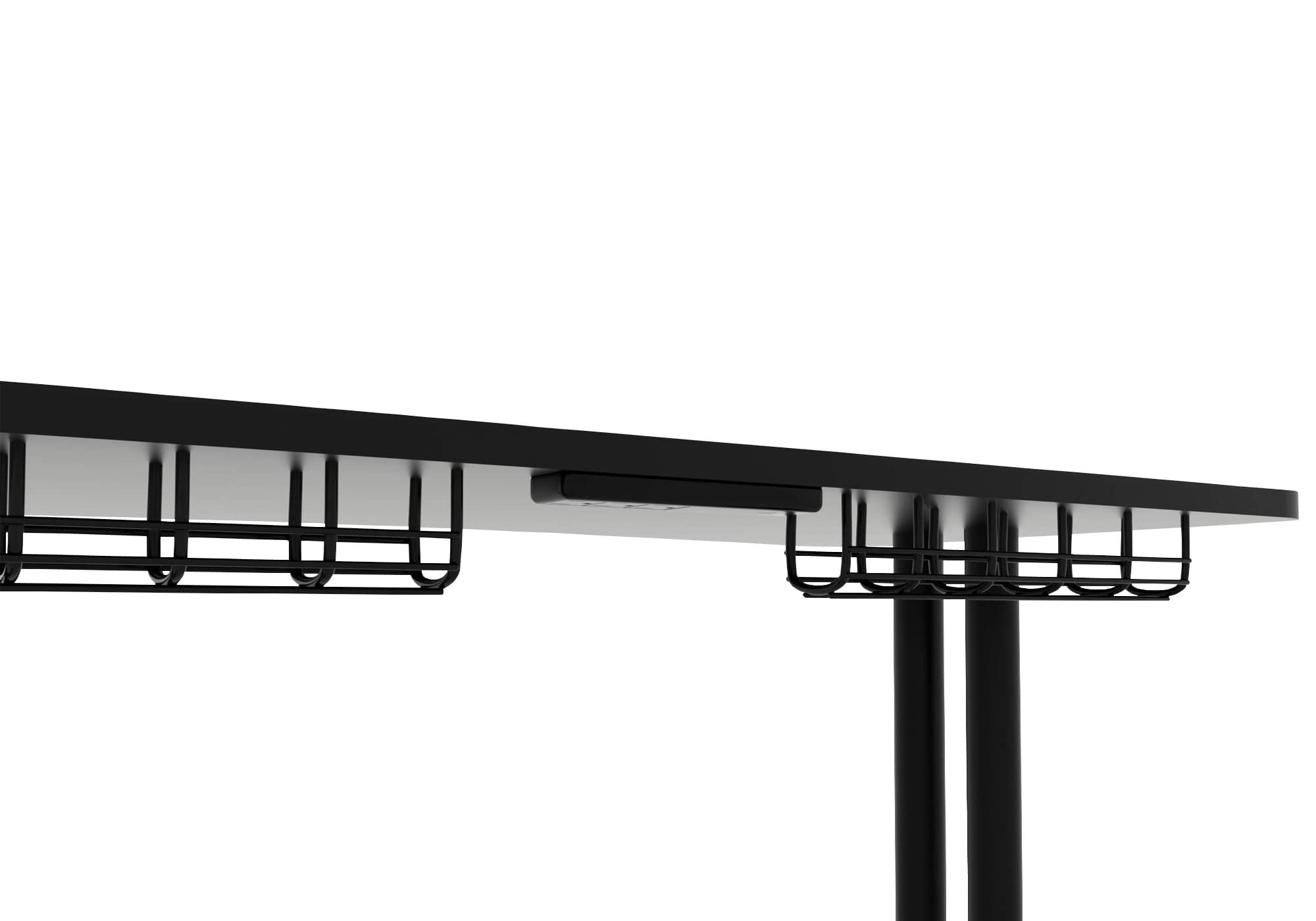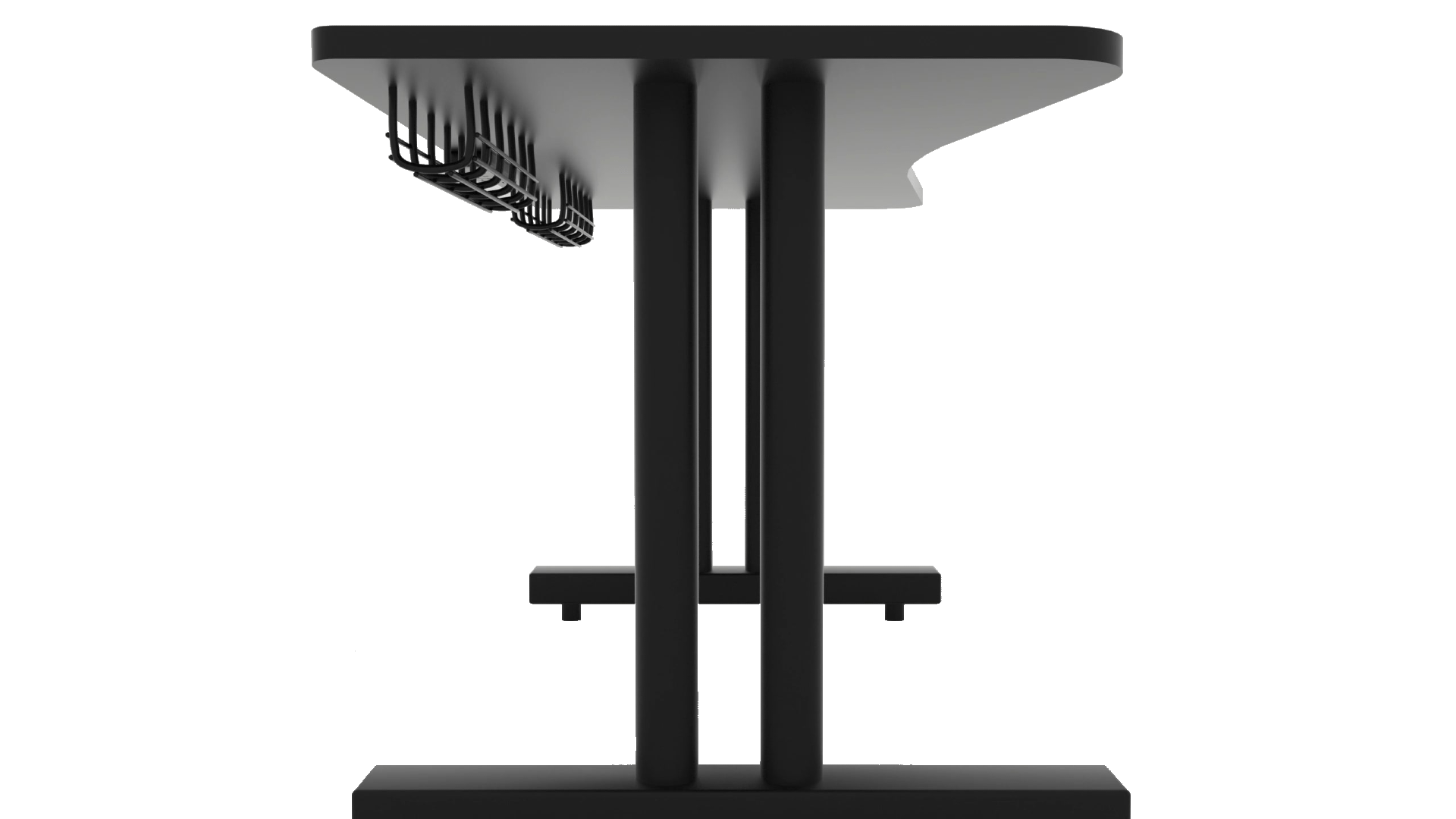 A single piece of steel stretches across the entire underside of the Infinity preventing the wobbling that you find in other gaming desks. Each side of the desk is supported by dual steel posts to ensure stability of up to 240 pounds of desk weight.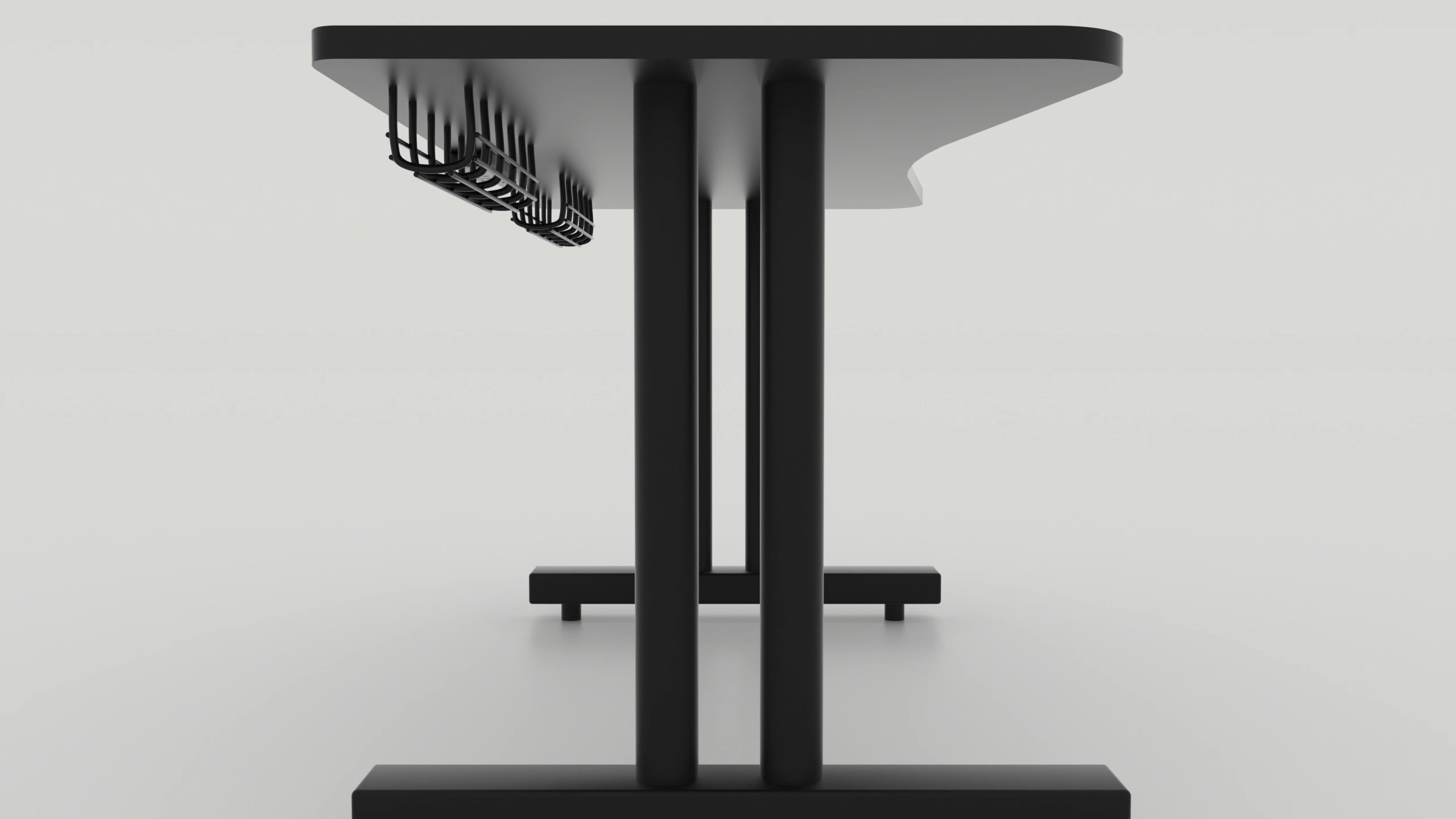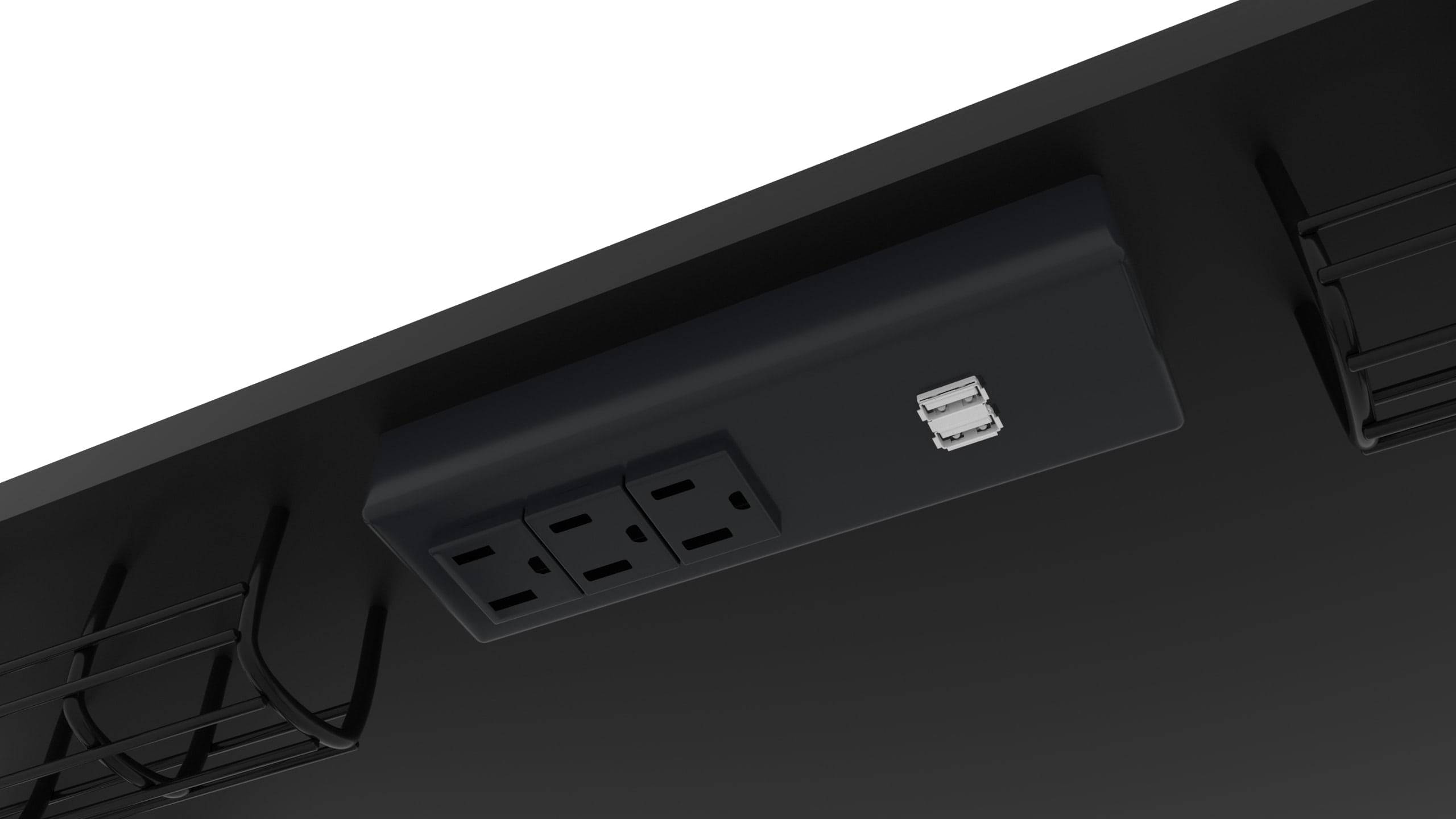 Power Strip with USB Ports

These days, in a world dominated by devices and appliances, just one or two power outlets simply aren't enough in most situations. A Power Strip with 3 sockets and 2 USB Ports is included for you to be able to connect or charge all of your devices, without ever having to worry about space again.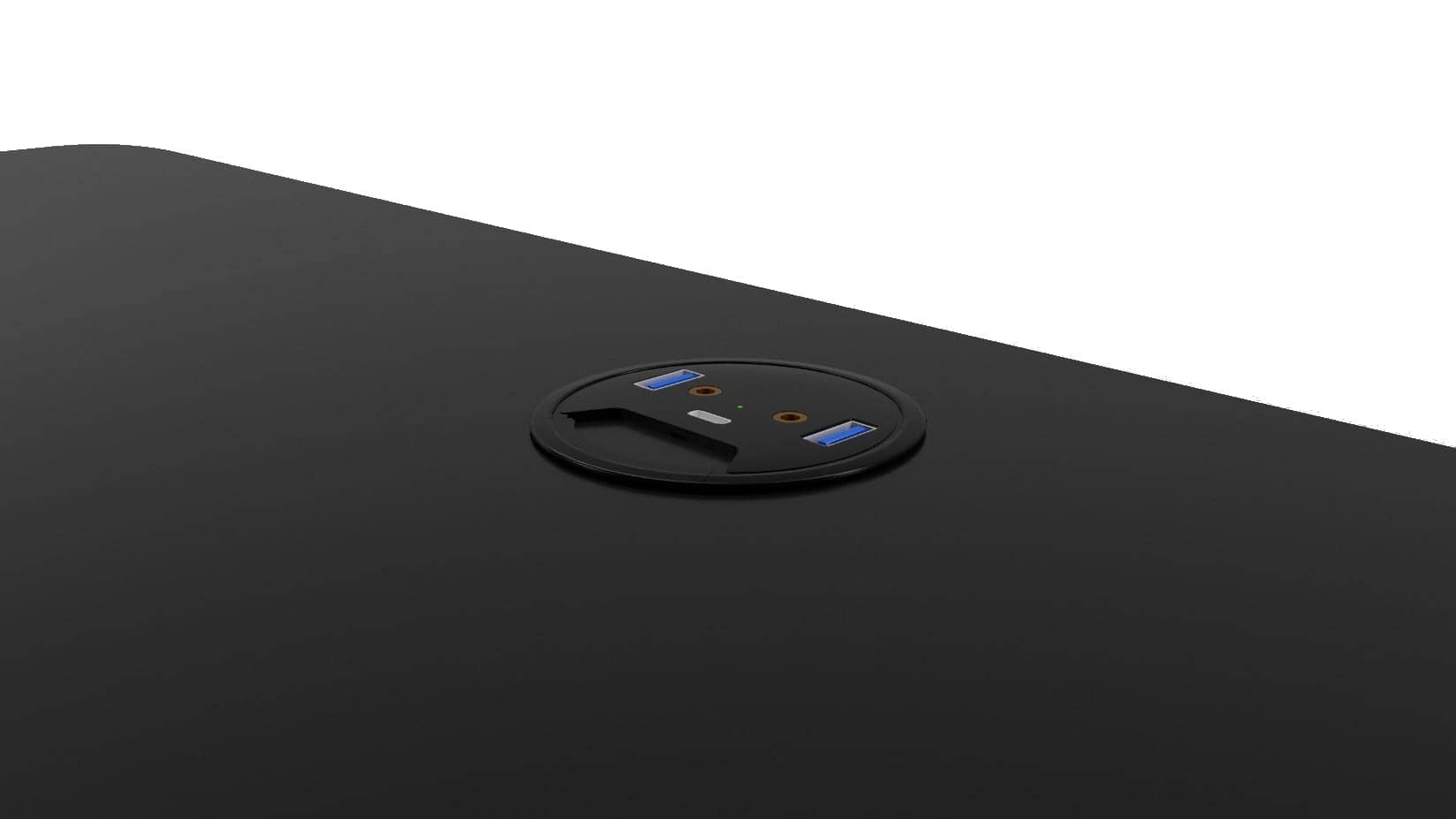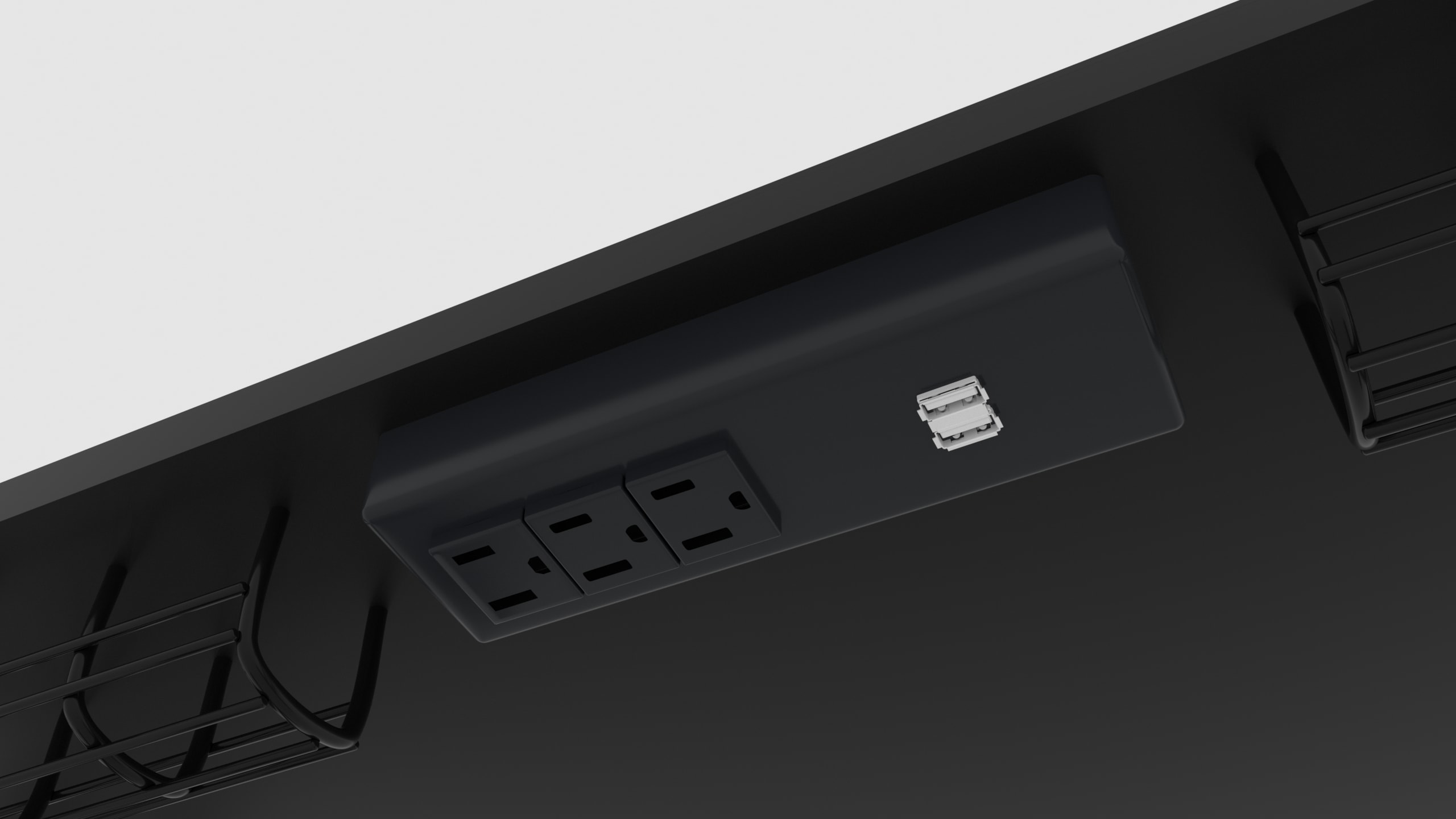 A USB Hub is flush mounted onto the desk, and can be connected to your PC for data transmission or a wall outlet if needed to power peripherals.
This Hub includes two USB 3.0 ports, a USB-C port and audio I/O ports.
There are additional USB ports and power ports on the back of the desk to power all your peripherals.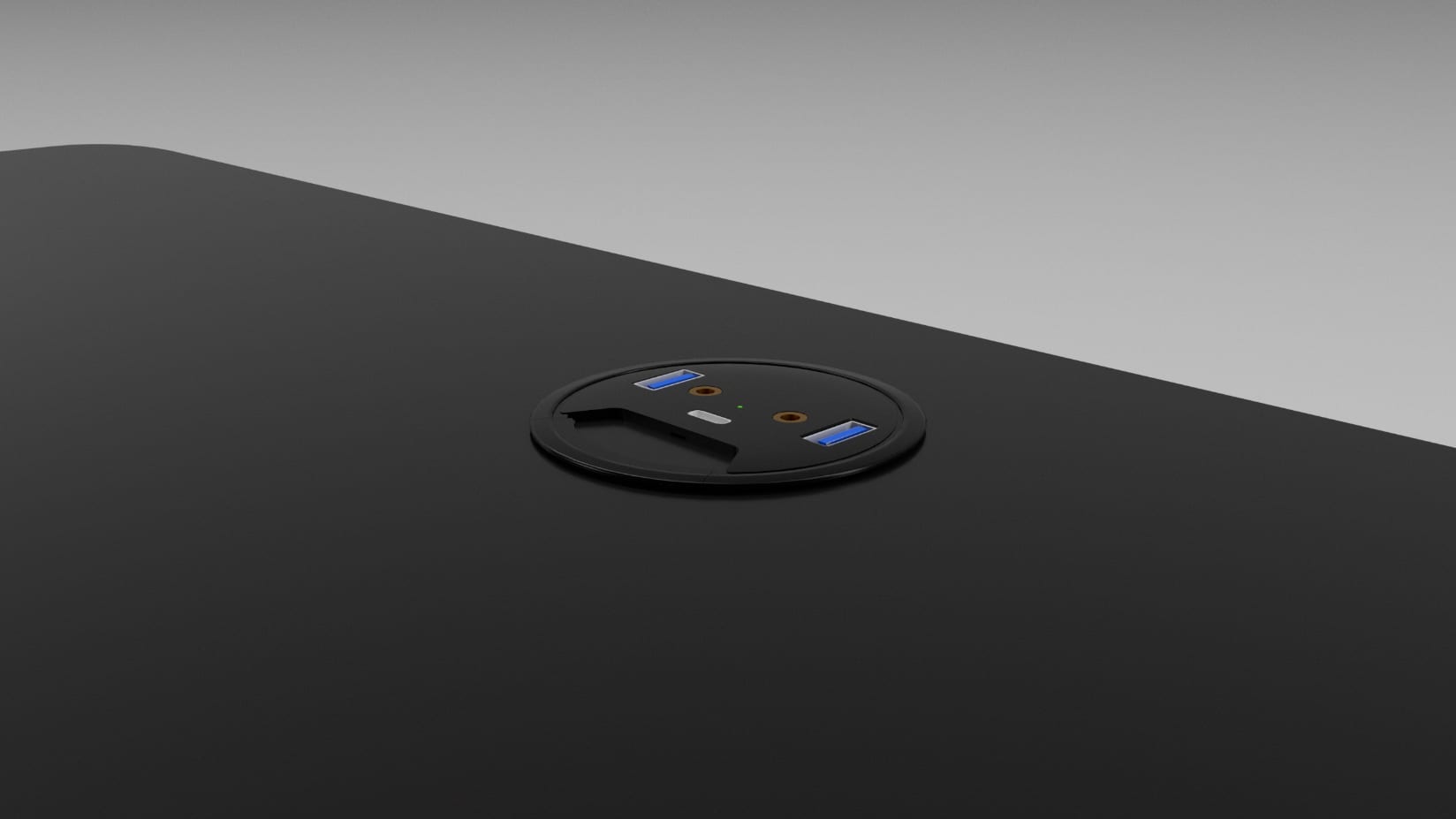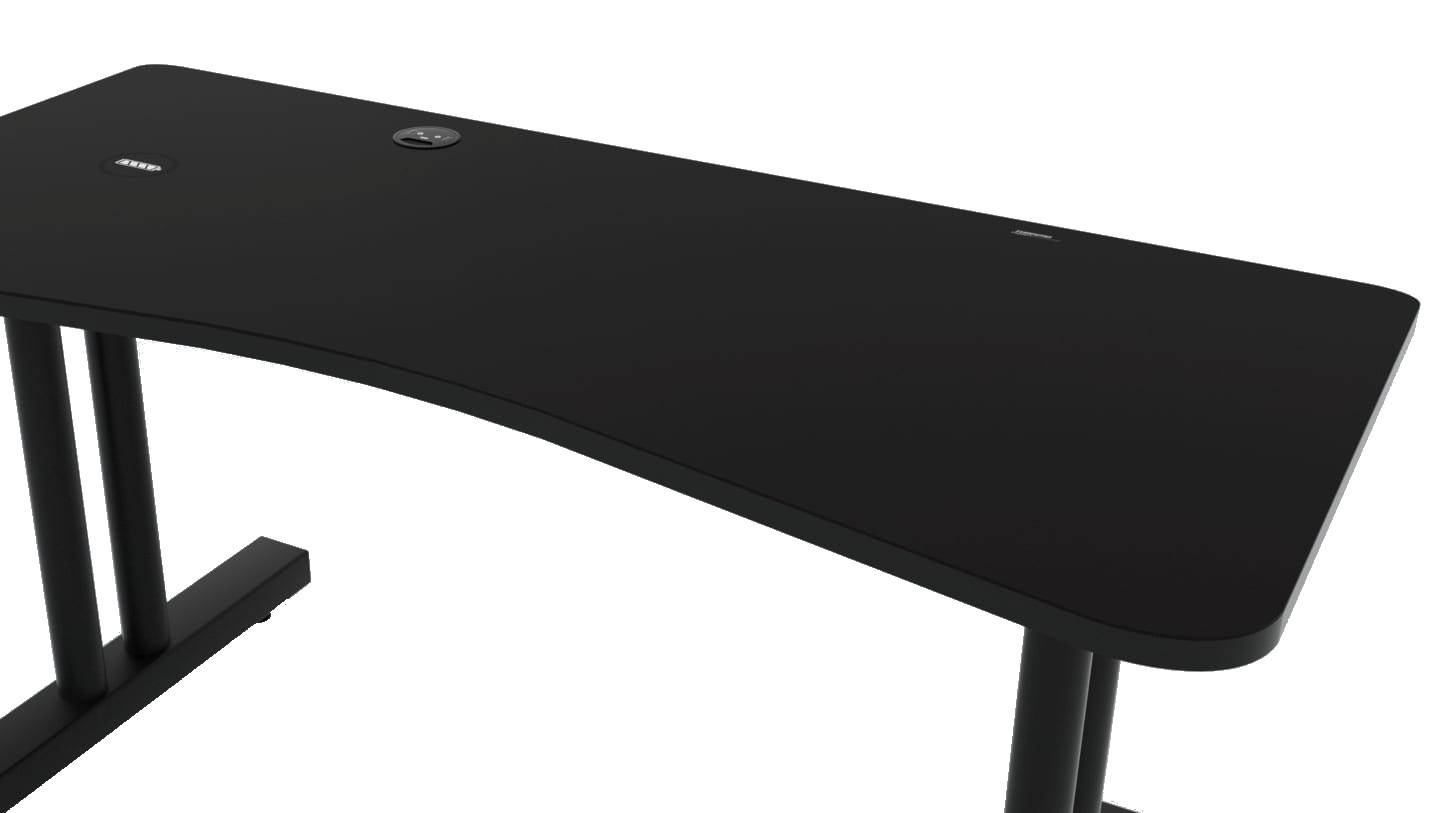 A custom microfiber surface with embroidered edges and thick padding to maximize comfort while gaming and provide a comfortable, streamlined surface that won't wear down your mouse or get it too dirty over time. This full-surface water resistant mousepad weight covers the entirety of the gaming desk, allowing for infinite peripheral movements and enhanced gameplay.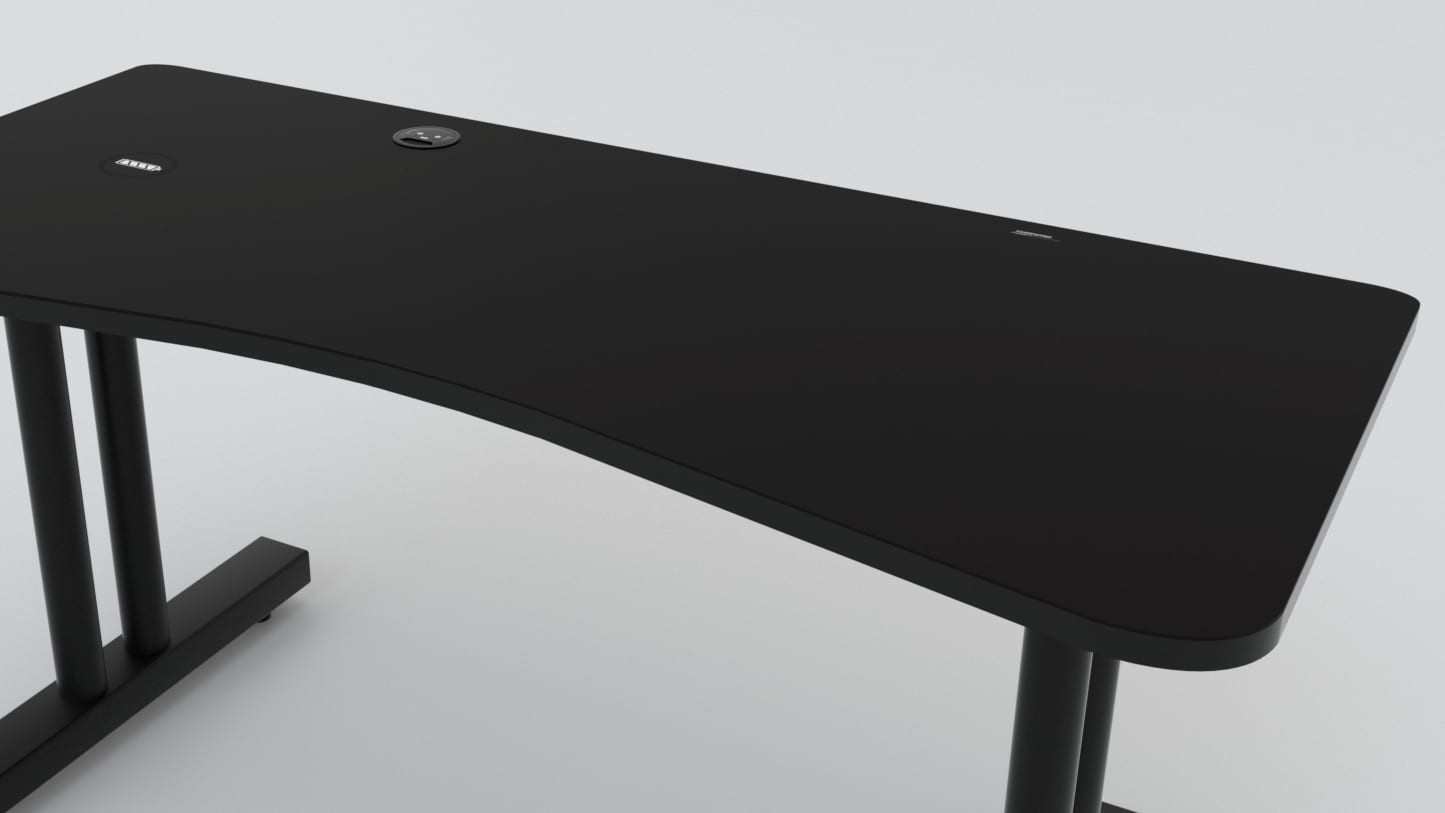 Built-in Wireless Phone Charger
Power Strip with USB Ports

64 inches width

34 inches depth

30 inches height

Great Desk! Needs better assembly videos
I absolutely love the Infinity Desk! After putting it together I have had 0 issues with it, it is sturdy, holds all 3 of my monitors, holds my blue yeti boom arm + mic, and gives plenty of space for my keyboard, mouse and a lot of other things I might feel like putting on it! The holes in the back are nice for cables to run through, making it so you aren't stuck feeding 10 cables through one holes, then on the bottom of the desk there is some cable holders to keep them all running nicely with one another. The usb hub on top is nice to plug in my headset dongle since I use a wireless headset and microphone cord for my blue yeti. The desk itself hasn't had any wobbling issues or any problems whatsoever, it's a premium desk that you pay for the quality and Turismo Racing delivers 100%!
But for all the pros there is only a couples cons such as the assembly. I ran into a problem right away with screwing the shorter screws into the brackets, one of the brackets the shorter screws went in fine, the other bracket they wouldn't move after a couple turns, luckily with the screw key that came with them, I was able to brute force them into the holes, and yes they were the correct screws for the brackets/screw holes. I wish I was kidding from how badly I had to brute force them, my fingers were sore for about 2-3 days after, probably would've been more if I didn't find a screwdriver around the house that matched the screws about halfway through the assembly. So just to be clear, the screws matched the screw holes, but I don't know if the screw holes were done correctly or what, but I had to use the screw key to brute force turn the screws into the holes, not every single hole, but all in all, probably about 8-12 of the holes were like this. The second thing I have to knock them for is not the desk itself, but the video assembly guide they provide on Youtube, for someone who before this has never put together a desk before, this was absolutely one of the worst assembly guides/videos out there. They weren't even assembling the Infinity Desk itself but rather a similar put together desk from Turismo. The people assembling it had the video zoomed out the entire time so you have to guess what parts go where, they also skipped parts of the assembling so you have to guess where stuff goes if you get lost/confused, they don't explain anything other than some text appearing on the screen saying screw (x) part into (x) part rather than zooming in and showing you where to screw everything in. Please Turismo Racing, for the love of god hire someone on Youtube or put together a video yourself of an in depth assembly video of the Infinity Desk so that people who aren't experienced with putting desks together or knowledgeable about that kind of stuff will have a much easier time.
All in all the desk is absolutely fantastic, worth the month and a half I had to wait for it (I ordered it at the very end of October and it arrived around December 15, I was well aware of the time I had to wait to get it so don't be fooled by that) and the money was worth it for such a quality desk, I would absolutely recommend getting this desk, you won't find anything better for the price.
Great Product
The Infinity desk is extremely sturdy and was very easy to put together. The mouse pad top and cable management along with the wireless phone charger separate this desks from all the others. I only wish the wireless phone charger had the blue flames coming from it like the photos on the website.
Great desk
Just needs better instructions for assembly is all. The desk is awesome though. Maybe also let people know with iPhone 7s and older the charging spot won't work. But it is an awesome desk. Would definitely recommend.
Solid Desk, Well Designed, Well Packaged, Easy Assembly
Only reason for losing a star is that it was unclear that the surface was just a durable cloth cover. It will work as intended, but it doesn't wipe off as cleanly as a solid surface would and every white lint piece shows. Also, the instructions tell you not to use the built in USB ports under the desk for powering stuff, but why? They have the ability to use powered ports!
Sturdy & Just the right amount of space
Working from home, this desk is the perfect size for a laptop + 3 monitors. Sturdy and doesn't shake like many competitors.
Pretty good
Very cool desk, fits nicely wherever you would want to put it. Pretty stable even with me putting it in my carpet room. The wireless charging and the USB hub comes in handy with keeping things neat and accessible. The wire trays underneath are spacious with enough room for me to cram in a surge protector and all my wires no problem. Assembly was super simple and easy, the instructions could've been a bit clearer on which way to have the base flipped to install the legs, but I watched the YouTube video to figure it out. My only complaint with the desk would be that the full size desk mousepad doesn't even come close to lining up with any of the cut outs or the wireless charger which makes charging your phone a guessing game trying to figure out where to properly put it, but besides that the full size mouse pad is a huge step up for me coming from tiny mouse pads and always running out of room, never run out of room with this desk! All in all an awesome desk well worth the money but don't be surprised if the mouse pad doesn't line up with everything.
Quality Desk
Easy to Build. Looks great, sturdy, nice mousepad. Support was very responsive to all my questions. I'd definitely recommend this desk to other family and friends
Infinity MAX
A great desk! It came sooner than expected and was pretty easy to put together. It is solid, heavy and feels substantial. There is no shake to the desk at all and the fit and quality was as great as the company claimed. I bought a 49" curved monitor and this desk was the largest I could find that just had a bunch of cool stuff with it: Cable management, wireless charging, mouse pad and power supply. The only thing that bummed me out was that there was no LED desk trim option that is offered on their other desks but I hope that gets offered as an accessory soon. I recommend this desk for the quality and sturdiness alone. It took me forever to find something like this and glad I waited for it.
Great Sturdy Desk
The desk came with a 2-4 week expectancy on site but arrived in a week or so, was easy to put together with a slight tightness in desk support poles, nothing a slight slap didnt fix and is very sturdy and well setup in terms of available space and design. Have not gotten to test the iphone 12+ wireless charger yet (older model :/ ) and the pad is just slightly off of its mark when laid out all in all a 4.8 star out of 5 imo doesnt wobble. Will definitely purchase again from Turismo for next desk down the road
Every new gaming desk comes with our industry's best warranty and loyalty program - Turismo Care. We provide each original retail purchaser a 1-year warranty against defects in materials and workmanship of all parts.
This warranty does not cover:

- Improper assembly.
- Improper follow-up maintenance.
- Installation of components, parts, or accessories not compatible with the desks sold.
- Damage or failure due to accident, misuse, abuse, or neglect.
- Labor charges for part replacement or changeover.
- Desks used for commercial activities, including those in rental fleets and gaming arenas.

All consumables have a 90 day warranty.